20th Annual Fall Fundraiser
November 9, 2017
5:30 p.m.
Location
Radisson Hotel Ballroom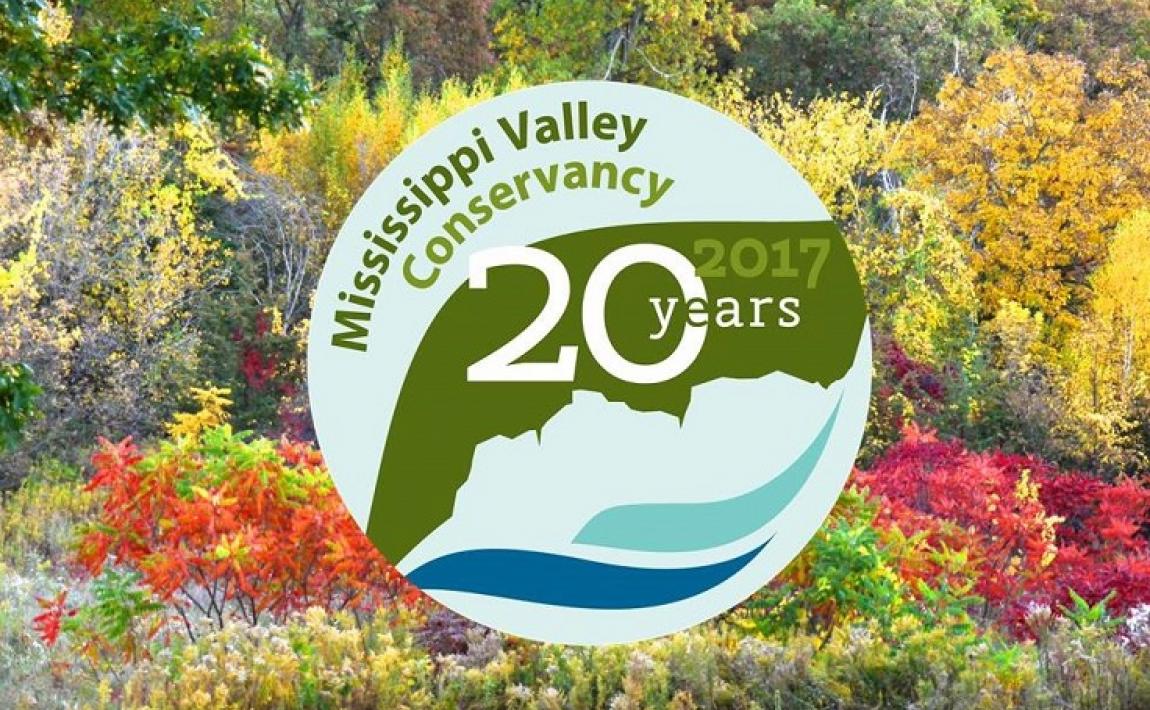 Join us in celebrating The land. Our future. Together, we'll fund the future at Mississippi Valley Conservancy's 20th annual fall fundraiser.

20 years! Almost 20,000 protected acres! It's all thanks to you, the loyal supporters and partners of Mississippi Valley Conservancy.

Join us in celebrating while looking ahead to the next twenty years of land protection.

This year's celebration includes: Bucket raffle, Silent auction, Live auction, Habitat-themed menu, music by Paul and Kathy Fairchild's Sometimes Stringband, and so much more.

Tickets are $50 in advance and $60 at the door. Contact the Conservancy office at 608-784-3606 Ext. 1 to RSVP.
AUCTION HIGHLIGHTS
Peruse this partial listing of items from our upcoming LIVE AUCTION and plan ahead for fun and enriching experiences with family and friends. We'll also have a SILENT AUCTION and a BUCKET RAFFLE. Updates will be posted every week until the event on November 9th! 
LIVE AUCTION HIGHLIGHTS
LA CROSSE ELEGANCE OVERNIGHT – Enjoy a one-night stay in classic style at the Cargill-Pettibone House in La Crosse and a $75 gift certificate for dinner at The Restaurant of the Charmant Hotel. The beautifully restored Cargill-Pettibone house was built in 1876. The bed and breakfast is complete with four in-suite bedrooms, a living room, dining room, library, den, and full kitchen. Your overnight stay includes a breakfast amenity basket with fresh muffins, yogurt, cereal, milk, juice, and fruit. Donated by Jay Lokken and The Charmant Hotel.
 
SEASONAL COOKING WITH CHEF MONIQUE – You and your group of 8 will learn culinary tips, techniques, and traditions from Chef Monique Hooker as you prepare a meal in her amazing kitchen and enjoy the results of your collaboration, at her dining table. The experience will include a tour of this French chef's garden and pantry to learn the secrets of seasonal cooking and why it's so delicious. Donated by Phil and Monique Hooker.
 
CHRIS-CRAFT CRUISIN' – Enjoy a champagne brunch for four during the summer or autumn 2018 aboard a 1963 30-foot wooden hulled Chris-Craft boat. The 4-5 hour cruise, hosted by will begin at the Winneshek Marina in Prairie du Chien and motor to either a secluded slough south of Prairie or to a location north of Prairie in the main channel opposite the resting place of the "ancients" in Effigy Mounds National Monument. Donated by hosts Jim and Joyce Czajkowski.
    
LA CROSSE LUXE WEEKEND PACKAGE – Fit for a baron or baroness, this luxury La Crosse weekend package includes 2 nights for two at the stately Castle La Crosse (reserve 30 days in advance) and dinner for two with a specially prepared tasting-menu at Le Chateau (reserve 17 days in advance). Enjoy goodies with a $25 gift certificate from the People's Food Co-op when you're out on your morning walk.
 
DISCOVER VIROQUA EXPERIENCE – Head for the organic epicenter with this Viroqua weekend package. Includes a 2-night stay at the stylish AirBnB-certified "217 on Main." Friday evening, enjoy craft cocktails and fish tacos with your $50 gift card from Rooted Spoon Culinary. After a day of exploration, enjoy Saturday evening at the James Beard-nominated Driftless Cafe with a $100 gift card for dinner. Supplement your weekend a $25 gift certificate from the Viroqua Food Co-op and a $20 gift card and coffee beans from the chic new Kickapoo Coffee shop. You'll also receive a packet of suggestions for your discovery experience. Donated by the owners of these fine local establishments.
BELIZE ISLAND GETAWAY – Enjoy 6 days/nights for up to 8 people at a gracious private villa in Belize. Just 20 steps to the salt water pool and 80 steps to the beach and the Caribbean Sea. Available May 1-November 1, 2018 for a one-week getaway. Donated by Loran Nordgren. Details at http://villahokolkin.com/
PROTHONOTARY WARBLER BIRD TRIP – Two guests get the opportunity to ride with Tim in his flat boat to check nesting boxes for adult and young Prothonotary Warblers.  This trip is offered on a slough off French Island during the first or second week of June 2018 and is donated by Tim Collins.
HOME BREWING EXPERIENCE – Learn how to brew your own beer in this complete workshop with Rich Lenard. In this 4-6 hour experience at Rich's home in La Crosse, you'll learn about styles of beer, home brewing methods and equipment, brew kits, and key steps in the brewing process. You may bring 1-2 guests. You'll leave with two cases of your beer!
 
RETREAT IN CONTEMPORARY STYLE – Relax and recreate at a magnificent, unique home in Wisconsin's fabled Driftless Area. The open plan residence is furnished with contemporary and handcrafted designs, and features a secluded setting with expansive views on conservancy-protected land. Sit on the large deck in the evening and count the deer, listen to the owls call across the valley, and see a clear light-free sky. Three nights for up to 6 people. Donated by John Durbrow and Karen Steingraber.
DRIFTLESS BEAUTY – Accompany landscape painter Sara Lubinski for a field adventure from a true artist perspective! You'll visit a privately owned valley, see 450 year-old cedars, and learn about the prehistoric cultures who left traces there. End the day with a special wine tasting of award-winning local varieties. Donated by Sara Lubinski .
FLYING HIGH – Soar over the beautiful Driftless area in a Cessna 172 piloted by Carol or Drake. This item includes two seats for the 45-minute flight. Donated by Carol Kratz and Drake Hokanson.
CRUISING THE BACK WATERS – Enjoy an informative hour-long cruise to learn about the Mississippi River restoration from river expert Gretchen Benjamin. This summer excursion includes food and assorted beverages. Donated by Gretchen Benjamin.
WEEKEND AT NEW SUNDBORN RANCH – Enjoy a private fishing and lodge retreat at a Scandinavian-inspired cottage in the heart of Wisconsin's Driftless area. After your outdoor enjoyment of hiking and fishing from the adjacent rivers and reservoir, the Carl Larsson cottage and its colorfully crafted interior will transport you to the comfort and charm of the old country. (Not available from March 15-May 31) Donated by Loran Nordgren. Details at http://www.newsundbornranch.com/
7 DAY STAY IN NORTHERN WISCONSIN – Enjoy a seven-day stay in a 3 bedroom, 1 bath cabin on Persons Lake in the northwestern sand barrens of Gordon-Minong area of Wisconsin.  The cabin is heated, available year round, and sits on the 175-acre Persons Lake. The area is popular for loons, eagles, bears, wolves, badgers, and other wildlife. There is a sloped sand beach on which you can fish for bass, northerns, pan fish, and walleye. Donated by Pat Caffrey and Peg Zappen.  
PRIVATE TOUR OF KICKAPOO CAVERNS – Bring your group of 8 to a guided tour of the recently acquired and now protected Kickapoo Caverns – seasonal home of three rare bat species, oak savannah, and many wild flowers. Conservancy staff will guide the tour and provide light refreshments.
HOUSEBOAT TOUR OF LAKE ONALASKA – Bring friends and picnic to enjoy a houseboat tour for four on beautiful Lake Onalaska, Hosted by Marc and Sue Schultz. 
GET ER DONE – Sit back and sip your ice tea while Levi and his intern crew clear your invasives, plant your trees, or tackle whatever restoration work you need done on your land.  This full day of fieldwork is donated by the Conservancy staff.
FISHING ON THE FLY – Bring a friend and learn to use your new fly fishing gear with a full day of fly fishing and instruction with professional guide and tournament champion, Brian Ramsey. http://brianramseyflyfishing.com This package includes a 6'6" graphite and titanium fly fishing rod donated by Tom Claflin, your choice of fly fishing gear bought with a $50 gift card from Driftless Angler, flies for fishing handmade and donated by Dave Ford, and a $25 gift certificate to Timmer's 10 Mile Pub. Brian has plenty of extra gear, but you'll need to provide your own waders. Donated by Brian, Tom, Dave, and the Driftless Angler.
November 9, 2017
5:30 p.m.
Location
Radisson Hotel Ballroom