Trail Trek Challenge Hike of the Month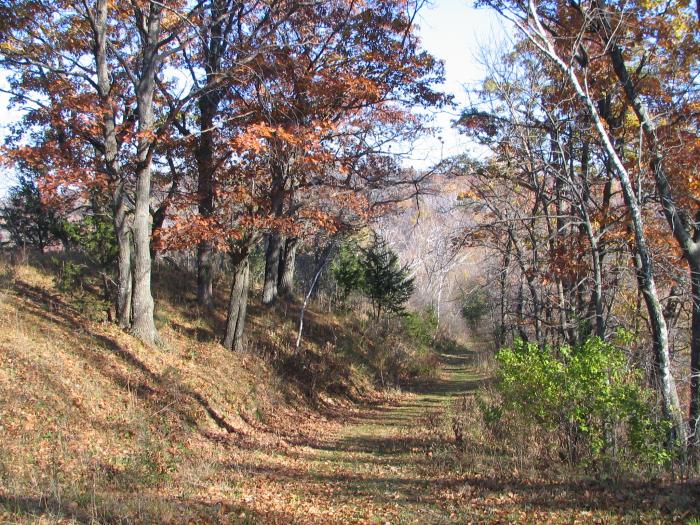 The leaves are changing colors and the panoramic view from atop the Greens Coulee nature preserve has never been better. Our September hike of the month is on one of the Trail Trek Challenge's most centrally-located and accessible trails, making it an ideal destination for a short getaway into the beauty of the an oak woodland. A network of well-maintained trails are available to explore on the 81 acres of this scenic bluffland. The grassy paths are lined with a variety of wildflowers, fungi, trees, and rock formations. If you've got a little time to spare, bring a friend and a picnic to enjoy while taking in the views from the top. Look for the trail entrance on Stonebridge Avenue in Onalaska.
Learn more and download a trail map with driving directions here.
For a more challenging hike, park at the end of the cul-de-sac on Clifford Dr. and take the Savanna Oaks path. Climb the trail up 440 feet to end at a stunning overlook with a unique view of the Mississippi River and surrounding bluffs. This hike is 1.2 miles there-and-back with a steep incline. The parking lot for the Savanna Oaks trail is closed from November 1-May 1, so be sure to take advantage while you can.
Along the way
Greens Coulee is a short distance from downtown Onalaska and the Valley View Mall area, offering plenty of dining and shopping options to explore before or after your hike.
Safety Advisory: Wear bright colors
Please note that hunting and trapping are allowed on many nature preserves, in accordance with Wisconsin hunting regulations and city and town ordinances. For details about the hunting season dates, please refer to the Wisconsin DNR hunting schedule. For more information about hunting on nature preserves protected by Mississippi Valley Conservancy, please read about our Nature Preserves.
Sign up today if you're not already signed up for the Trail Trek Challenge
It's a great way to get outdoors when and where it works for you. And it's FREE. Click for details and sign-up.
We thank these generous supporters of the 2019 Trail Trek Challenge:
Organic Valley, Franciscan Sisters of Perpetual Adoration, WKBT/News Channel 8, Mid-West Family Broadcasting, Altra Federal Credit Union, Crawford County Community Fund, People's Food Cooperative, Dairyland Power Cooperative, Kwik Trip, Trust Point, Inc., Verve-a Credit Union, and Viroqua Area Foundation
Views of Greens Coulee-Savannah Oaks