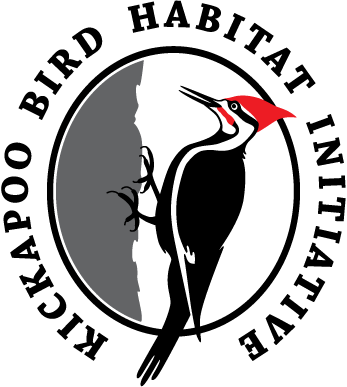 ​
​

What is the Kickapoo Bird Habitat Initiative (KBHI)?
We are honored to be recipients of support from The Cornell Lab of Ornithology Land Trust Small Grants Program to work with project partners Valley Stewardship Network, the Kickapoo Valley Reserve, and the Wisconsin DNR in spearheading the Kickapoo Bird Habitat Initiative. The program consists of a three-pronged approach of habitat management, data collection, and public education and outreach within the Kickapoo Valley – Wildcat Mountain Important Bird Area.
Vision Statement:
A healthy landscape of diverse native habitats and farmlands that support sustainable populations of birds, and provides an enriched quality of life for all who live, work, and play here.
Mission Statement:
A public and private partnership to increase awareness, improve habitat, and engage landowners in conservation practices for birds and other wildlife within the Kickapoo-Wildcat Important Bird Area.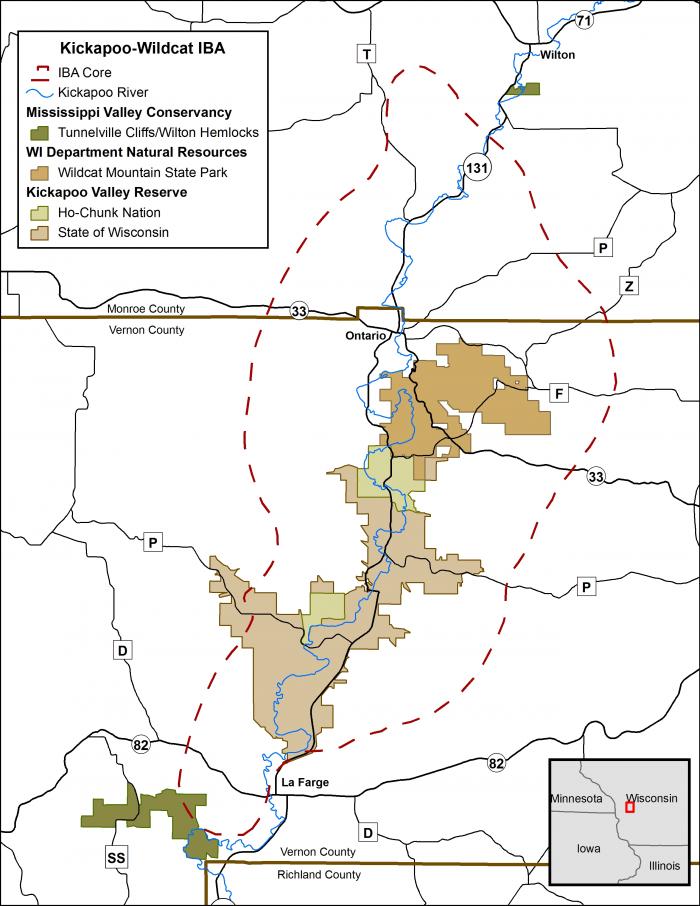 Did you know…?
The Driftless Area supports the largest block of forest between the Missouri Ozarks and Canada's boreal forests.
Driftless forests, including those found in the Kickapoo Valley, support the highest concentrations of Cerulean Warblers and Wood Thrushes in the Upper Midwest. Both species are high conservation priorities. 
Thirteen bird species considered rare in Wisconsin, including Louisiana Waterthrush and Kentucky Warbler, breed within the Important Bird Area
Golden Eagles from Canada's Hudson Bay spend the winter within the Important Bird Area.
The Kickapoo Valley's Scarlet Tanagers winter on the rugged eastern slopes of the South American Andes, while the valley's Baltimore Orioles and Ruby-throated Hummingbirds spend the winter in Central American forests in the company of Howler Monkeys.
209 species of birds, both resident and migratory, have been found within the Important Bird Area.
Join the team as a citizen scientist!
You can become a part of the Kickapoo Bird Habitat Initiative by submitting your bird observations through eBird. Simply log into your account, submit a checklist as usual, but on the last page before submitting, share your checklist to the "Kickapoo Bird Habitat Initiative" account. By typing the Initiative name into the "share checklist" textbox, eBird will share your checklist with us and you will be contributing important information on the birds that use our unique landscape!
KBHI Partners:
Mississippi Valley Conservancy
Wisconsin Department of Natural Resources
KBHI Supporters:
Contact Information:
Ben Johnston
Valley Stewardship Network
[email protected]
Connor Kotte
Mississippi Valley Conservancy
[email protected]

 
Gallery photos below are courtesy of Allen Blake Sheldon. All rights reserved.
Birds of the Important Bird Area in the Kickapoo River watershed area (a partial selection). All photos courtesy of Allen Blake Sheldon.