2019 Live Auction Item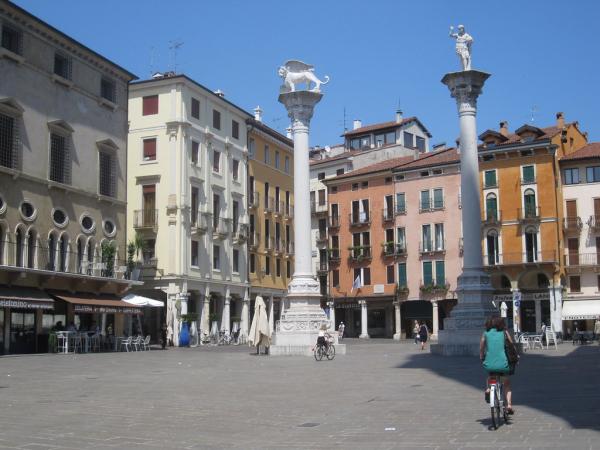 Hike the hills, tour the historic villas, and see treasure-filled churches and Roman ruins while exploring beautiful northern Italy during your two-week stay at the home of Bluffland Guardian Kurt Brownell in his home near Vicenza. Vicenza is a beautiful city located in hilly landscape of northern Italy between Venice and Verona. As part of the Veneto region of the country, Vicenza has a long history and combines its ancient past together with its modern cosmopolitan outlook and thriving economy to create a city that is one of Italy's true jewels. Vicenza is a Unesco World Heritage Site – a destination in and of itself. It has the world's oldest roofed theater in continuous operation since 1585.
Kurt Brownell, a native of La Crosse, has been living in Vicenza since 2017, where he continues to follow and support Mississippi Valley Conservancy from afar. And we've been following his amazing adventures, too!
Kurt has generously offered to host two Conservancy supporters for two weeks at his home in Italy! All you have to do is place the winning bid on this amazing opportunity at our 2019 Fall Fundraiser on November 8th and Kurt will match your bid up to $2,000!
With Kurt's guidance, Italian language skills, and many transportation options, you'll have the ability to:
stay local with hiking and biking (bring a helmet if you plan to bike)
learn about local nature from professional biologist Kurt, whose work is to manage the natural resources on the area military bases
enjoy the beauty of Lago di Fimon (a scenic 20 minute bike ride on a country trail brings you to this lake) and the Colli Berici Natura 2000 protected area which is practically at Kurt's doorstep
enjoy time on your own when you're on a more leisurely schedule (Kurt leaves his place at 6:30 a.m. and returns around 5:00 M-F)
hop on the bus for easy visits to nearby Vicenza
easily travel by bus or train to see the sights of northern Italy's beautiful cities – including Verona, Vicenza, and Venice, to name just a few! The rich history and art/architectural treasures of Italy's Veneto region are jaw dropping, and the food is molto delizioso!
take longer trips on your own to places like Rome, Turin, Milan, Bologna, or Florence – with travel tips from Kurt – if you get up early enough, some of these are day trips
relax during the evenings in Kurt's country giardino
Things you need to know
Kurt lives at 41 Via Buzzolati, Arcugnano, IT 36057, on the edge of the town of Fimon, where there's easy access public transportation or a 30 minute bike-ride to beautiful Vicenza. Northern Italians almost all ride bikes (when they're not driving their sporty cars)!
Amenities
1 guest bedroom with 2 twin beds
1 bathroom (shared)
Wifi access
Kitchen access
Parking space for a rental car
Walking distance to:

grocery store (5 minute walk)
Osteria for live music, bar food, and drinks in the evening (5 minute walk)
Bus stop (30 meters from door)
Planning your stay
Plan to arrive in Venice on a Saturday and depart on Sunday (two weeks later)
Kurt recommends Spring or Fall to avoid oppressive heat and too many tourists
Dates will be subject to Kurt's availability
Supporting your visit
Kurt will meet you at the airport upon your arrival, get you to his home, and accompany you for dinner out that evening, if you so desire.
He will be happy to show you around Vicenza or Venice on the following day (Sunday).
He will also be happy to guide you on another weekend day.
If you want to venture beyond the Veneto region, Kurt recommends you do so on your own. He will be happy to offer planning assistance.
He will see that you're on a bus to the airport for your Sunday departure.
If you're feeling really adventurous, Kurt would enjoy guiding you on a camping trip into the parks of Coatia or Slovenia. He even has some camping equipment to share, but you would need sleeping bags and mats.
Expenses to plan for
Groceries for meals at Kurt's house.
Restaurant meals
Admission fees*
Bus fares (1 Euro per trip)
Train tickets** (Regional trains to Venice are 5.80 Euro each way)

The fast train tickets to places several hours away such as Florence can be 40-60 Euro each way. Kurt can assist in getting train tickets and planning these trips.

Airfare – not included
*If you want Kurt to join you in going into places that he's seen lots of times, he will either wait outside or you may choose to pay for his admission.
**If you want Kurt to join you in going further afield for a weekend day-trip to someplace he's already been, then he would ask that you pay for his train ticket.
More about Vicenza and the Veneto region
https://www.wanderingitaly.com/maps/veneto.html
https://www.thecrazytourist.com/15-best-things-vicenza-italy/
https://www.lonelyplanet.com/italy/vicenza/top-things-to-do/a/poi/360031
Kurt's You Tube page of adventures
Cuisine of the Veneto region
https://www.eataly.com/us_en/magazine/culture/food-guide-veneto/
More things to do
https://italy.armymwr.com/programs/outdoor-recreation
Need more information before the auction?
If you'd like to ask Kurt about details of a trip to his home near Vicenza, you may email him directly.
Photo above: "Vicenza_1641" by artnbarb is licensed under CC BY-NC-SA 2.0
Accommodations and surroundings