2019 Live Auction Item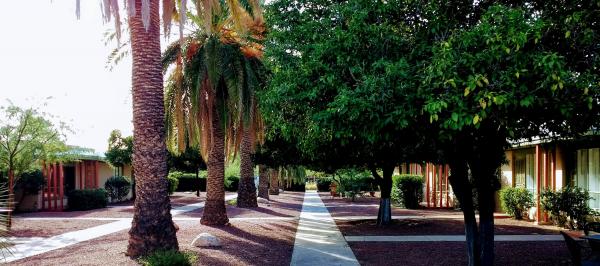 Escape the icy cold with a week of lodging in a private 1-bedroom condo in the high desert air of beautiful Tucson, Arizona. Known for its southwestern style, diverse cuisine, arts and entertainment, cultural diversity, and its warm and casual atmosphere, in addition to its "UNESCO City of Gastronomy" designation, Tucson is a delightful place to thaw out, dine, relax, and play.
A long-time friend of Mississippi Valley Conservancy is offering a one-week stay (7 nights) in her 625 square-foot mid-century modern guest condo that's part of the one-storey "Country Club Manor Condominiums" complex built in 1948. The gas stove and refrigerator are brand new, and the gas heat is a treat on chilly desert mornings. The bedroom has a queen size bed and there's a full-size pull-out futon in the living room. There is no wi-fi service in the condo, but it is available nearby (in the outdoor seating area by the owner's condo). You can easily get around Tucson with public transportation, but if you choose to rent a car you may use the single covered parking space that comes with the condo.
Things to see and do
The condominium complex is just across the street from Tucson's Reid Park which has a dog park, playgrounds, excellent zoo, swimming pools (one is a therapy pool, indoors with 93 degree water) the other is outdoors. Baseball diamonds, University of Arizona student teams, rose garden, lake, horseshoes, etc. The condo is easy walking distance to a Natural Grocers store, a bakery, the popular Bisbee Breakfast Club, a pizza tavern, a vegan ice-cream shop, and a cocktail lounge. It also has easy access to public transportation to get you almost anywhere in the city. The ElCon shopping center with theaters and restaurants is within 2 miles. The Annual Tucson Gem and Mineral Show is popular with artisans an visitors in early February at multiple locations.
If hiking is your thing, then Tucson is for you. The city is surrounded by five mountain ranges, and hiking in the many foothills is one of the favorite outdoor activities of residents and visitors. A 30-minute drive will get you to Saguaro National Park where you can hike and marvel at the legendary and protected giant saguaro cacti. Urban hikes to museums and botanical gardens are also aplenty.
More about Tuscon
https://www.smithsonianmag.com/travel/introducing-americas-first-capital-gastronomy-180957793/
Planning your visit
Scheduling your visit to Tucson with this auction item is contingent upon availability. Book by Dec 15 if you plan to visit before April! These dates are unavailable: Dec 9-14, 2019; Dec 25, 2019-Jan 2; Jan 15-23; Jan 24-Feb 13; Feb 28-Mar 8, 2020. Offer valid through November 2020. Average temperatures in Tucson are: January highs in the 60's and lows in the 40's and April highs in the 80's and lows in the 50's.
The generous donor of this vacation package lives in anther condo in the same condominium complex, and she'll be happy to answer any questions you may have about planning your trip to Tucson before you bid on this getaway stay. Round trip airfare for one from La Crosse to Tucson costs roughly $400-500 (not included in this package). For more information contact Leslie Kolkmeier via email or Catherine Kolkmeier via email.
Views of Tucson lodging and area