Trail Trek Challenge Hike of the Month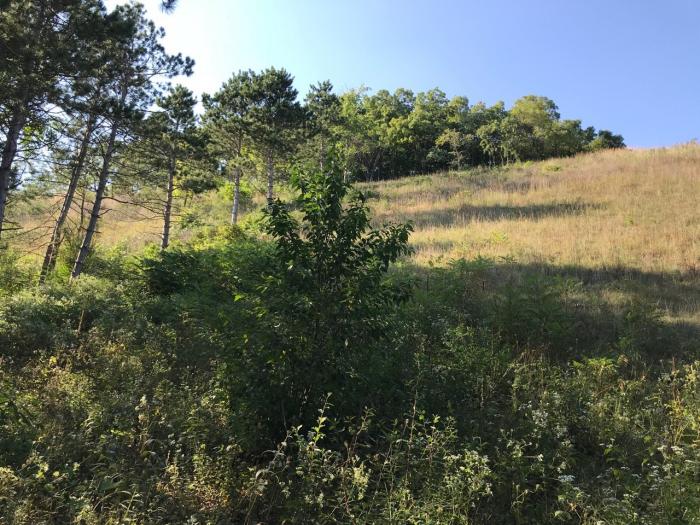 Thanks to Sue Knopf for writing up her recent day-trip and hike at Boscobel Bluffs!
Here's what she shared about the experience:
On October 16, 2019, a partly cloudy day with temperatures in the sixties, a friend and I took a road trip from La Crosse to Boscobel to hike at Boscobel Bluffs State Natural Area. We drove south on Highway 35. A little way past Ferryville, we turned east onto Hwy 171 and we then zig-zagged our way through the tiny town of Steuben and on down to the Wisconsin River on Cty. Rd. E. There, we turned east onto Hwy 60 and crossed the river on Hwy 61. Soon we reached Boscobel where we stopped at a handy convenience store. Then we continued south and turned east onto Mary Street, which turns into Cty. Rd. MS. The property is on the southeast edge of town and is accessed through a small parking area off Cty. Rd. MS.
Some trees still had their leaves and a few flowers were still in bloom as we started up a wide, grassy, gently rising trail. As we walked, we stopped to identify prairie plants (both native and alien), grasses, and trees: spotted mint, monarda, Queen Anne's lace, bladder campion, bouncing bet (soapwort), poke milkweed, sweet everlasting, goldenrod, ferns, yellow wood sorrel, heal-all, asters, mountain mint, Indian grass, white pine, red pine, red oak, river birch, maples, and hackberry. We also saw but were unable to identify some colorful mushrooms.
We followed the main trail as it headed generally northeast and upward. We explored a couple of dead-end side trails and passed through a small prairie before reaching the top of the bluff. At that point the trail turned south, and we entered a blufftop prairie approximately a third of a mile long and 400 feet wide. At the south end of the prairie the trail ended, and we retraced our steps to a wide treeless spot where several side trails branched off. There, as the sun came out briefly, we spread a tarp and ate our sandwiches and fruit before heading back to the parking area.
We drove about 70 miles one way from La Crosse, hiked about four miles in four hours and climbed a bluff about four hundred feet high. We stopped to explore side trails, identify plants, and eat our lunch. It was a beautiful drive and a lovely fall day. If you try a day like this and would like a treat on the way home, a couple of good places to get an ice cream cone are at Ferryville Cheese & More (a Mobile station and more!) and at Stoddard's Hood Scoops (in season), both along Hwy 35.
Safety Advisory: Wear bright colors
Please note that hunting and trapping are allowed on many nature preserves, in accordance with Wisconsin hunting regulations and city and town ordinances. For details about the hunting season dates, please refer to the Wisconsin DNR hunting schedule. For more information about hunting on nature preserves protected by Mississippi Valley Conservancy, please read about our Nature Preserves.
Sign up today if you're not already signed up for the Trail Trek Challenge
It's a great way to get outdoors when and where it works for you. And it's FREE. Click for details and sign-up.
We thank these generous supporters of the 2019 Trail Trek Challenge:
Organic Valley, Franciscan Sisters of Perpetual Adoration, WKBT/News Channel 8, Mid-West Family Broadcasting, Altra Federal Credit Union, Crawford County Community Fund, People's Food Cooperative, Dairyland Power Cooperative, Kwik Trip, Trust Point, Inc., Verve-a Credit Union, and Viroqua Area Foundation
Boscobel Bluffs State Natural Area