Trail Trek Challenge Hike of the Month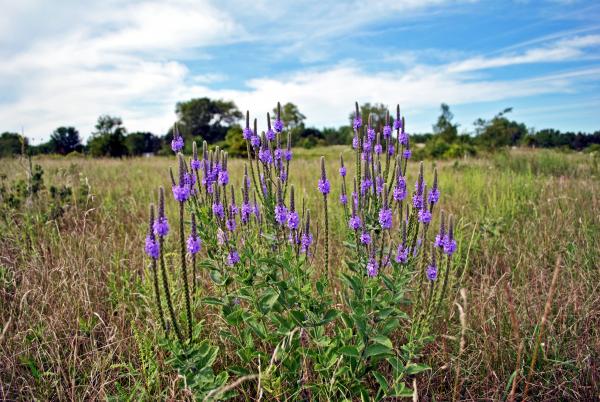 Hikers interested in an easy walk through a fine piece of preserved prairie will discover great delight in a stroll around the Holland Sand Prairie State Natural Area. Only two miles west of Holmen, Wisconsin, and close to U.S. Hwy. 53, this rare gem is easy to reach from La Crosse and the area.
Almost hidden among miles of fields and neighborhoods, the 61-acre Holland Sand Prairie quickly reminds visitors that a prairie differs from, say, a pasture. Depending on the season, this prairie will be flush with wildflowers, graceful prairie grasses, numerous other plant species, butterflies and ground-nesting birds.
Intact native prairies like this one are among the rarest ecosystems. In the Midwest thousands of square miles of prairie were plowed under for agriculture a century ago, leaving only scattered relics like this one.
Download a trail map with driving directions here.
This easy walk is under a mile and a half, over gently rolling ground. From the gate turn right or left along the fence line and follow the mowed trail around the perimeter of the prairie.
Some 150 species of plants are at home here. Early in the spring look for rare pasque flower. Later in the season look for prairie smoke and silky prairie clover. In the summer find native milkweed, the essential host for monarch butterfly caterpillars.
Bring some water, binoculars for the many birds, a prairie plant identification book, and maybe a copy of John Madson's Where the Sky Began: Land of the Tallgrass Prairie. If the weather is right, find a bench to sit and read Madson's accounts of napping amid the great grasses on an Iowa prairie during a summer afternoon.
There are ticks on the prairie right now, so dress appropriately and check yourself for ticks when you get home. You might also consider mixing up a batch of Abbie's Tick Spray.
Along the way
If you're ready for a bit of lunch, head east into Holmen on County Road MH and look for Mary's North Drive-In at 614 N. Main Street. Stop at this classic spot, complete with carhops, for a malt, a burger, or other sandwiches.
Interested in something a bit different? Just a few blocks south on Holmen Drive is Taste of Thai, where the staff will serve you an authentic pad thai, eggrolls, or a dozen different curries.
Sign up today if you're not already signed up for the Trail Trek Challenge
It's a great way to get outdoors when and where it works for you. And it's FREE. Click for details and sign-up.
We thank these generous supporters of the 2020-2021 Trail Trek Challenge
Mayo Clinic Health System, Organic Valley, Gundersen Health System, Franciscan Sisters of Perpetual Adoration, Viroqua Area Foundation, Altra Financial Advisors, People's Food Cooperative, Trust Point, Inc., Verve – a Credit Union, WKBT/News 8 Now, Dairyland Power Cooperative, Mid-West Family La Crosse, 4imprint.com
Views of Holland Sand Prairie