Trail Trek Challenge Hike of the Month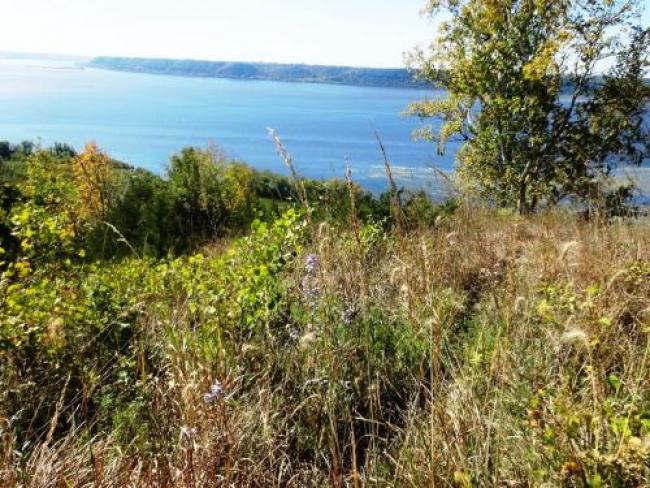 Every season offers new sights at Sugar Creek Bluff, a Wisconsin State Natural Area, but we chose to feature it in May for the spring migration of birds up the Mississippi River flyway and for its many beautiful wildflowers. There are few better places to celebrate the arrival of spring.
Download a trail map with driving directions here.
For 20 years, Mississippi Valley Conservancy has been working to make Sugar Creek Bluff State Natural Area near Ferryville in Crawford County a star among its land conservation projects in Western Wisconsin. Thanks to prairie restoration, wetland improvement, invasive species removal and trail work, the bluff and its companion wetland can reward visitors with wildlife sightings and blooming flowers such as hoary puccoon, leadplant or monkey-flower. The rare cerulean warbler and red shouldered hawk are among the birds you may see there. 
Hikers will also find, at the prairie overlook, an expansive view of the Mississippi River and the bluffs beyond. Barges and other river traffic are part of the view. Hawks, eagles and turkey vultures may drift by, soaring on the thermals rising from the bluffs. In any season, the view is beautiful.
The Conservancy purchased the first part of Sugar Creek Bluff in 1999 to permanently protect the habitat from future development. It is open for hunting, fishing, hiking, bird watching and nature enjoyment. Since that time, with help from many supporters, the Conservancy has more than doubled the size of the preserve to 440 acres through a series of acquisitions of adjacent parcels.
Along the way
Services for visitors in nearby Ferryville include the Ferryville Cheese Store, a gas and convenience store with many Wisconsin novelties and cheeses, and restaurants including the Wooden Nickel Bar and Grill with its bacon bourbon burger or the Swing Inn restaurant that offers breakfast, fish fry, and dinners such as prime rib. There are a number of small towns and beautiful sights to enjoy all along Crawford County's stretch of the All American Great River Road National Scenic Byway (Hwy. 35).
More about the habitat at Sugar Creek Bluff
Sugar Creek Bluff  contains a rich prairie flora with such species as prairie drop-seed, big and little blue-stem, New Jersey tea, flowering spurge, prairie coreopsis, bird's-foot violet, downy painted-cup, and bastard-toadflax. Red oak, white oak, shagbark hickory, white ash, and basswood dominate the dry-mesic forest. The forest ground flora is diverse and includes numerous spring ephemerals and early summer species including spring beauty, dutchman's-breeches, hepaticas, bloodroot, columbine, and toothwort. According to the Wisconsin Department of Natural Resources, the area is highly threatened due to a high interest in home development along the Mississippi River. Protection of these unique resource areas will help secure the long-term survival of the rare plants and animals found here. Sugar Creek Bluff was designated a State Natural Area in 2002.
Sign up today if you're not already signed up for the Trail Trek Challenge
It's a great way to get outdoors when and where it works for you. And it's FREE. Click for details and sign-up.
Views of Sugar Creek Bluff