Trail Trek Challenge Hike of the Month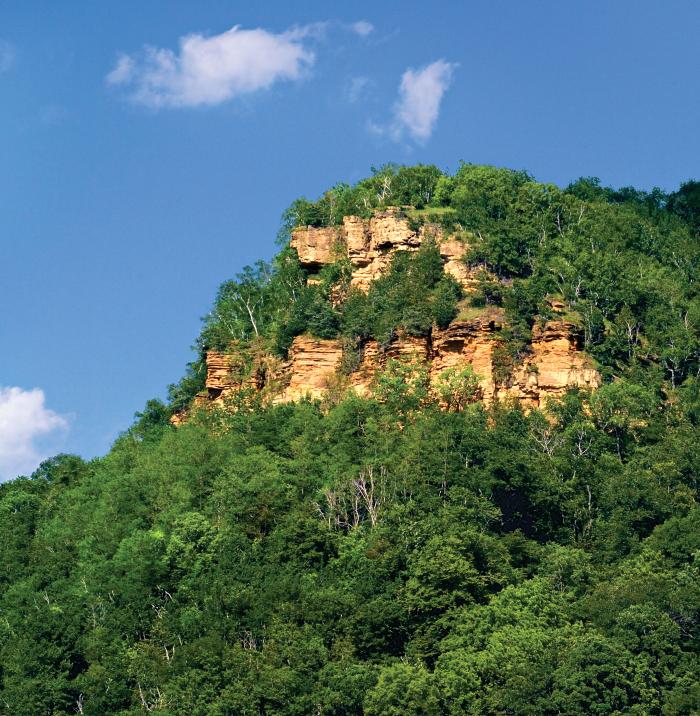 The bluff-top trail on Miller Bluff from the Rim of the City Road trailhead has long been one of the most popular hikes in the La Crosse Blufflands-North. This comes as no surprise when you discover the diverse wildlife habitats and spectacular views along the trail. It's a relatively short and easy hike, in spite of the remote parking situation, and there are many rewards for the observant hiker. Visitors to Miller Bluff will see oak woodlands, prairies, and sandstone cliffs – each with its own natural community of wildlife.
Download a trail map with driving directions.
Getting there and hiking
Because the Town of Medary does not allow parking on Rim of the City Road or at the trailhead, you'll need to park and walk about a half mile from the Cty. Rd. FA trailhead (Quarry Trail) or a mile from the Upper Hixon parking area (next to the weather station).
As you enter the park property through the gates at the end of Rim of the City Road, the main trail leads west and oak woodland can be seen on both sides of the trail. The further you go, the more oaks you will see. Just before the first overlook you can see a small prairie on the left, where brush has recently been removed to help the prairie plants thrive as they once did. Then the trail splits. If you climb down a few rocky steps to the left, you'll be able to stand on a huge sandstone promontory and enjoy an amazing view of the city and the marsh below. When you go back up and take the other path (now on your left), you'll walk through more oak woodland before arriving at another sandstone promontory with equally spectacular views.
From either of the overlooks, it's not unusual to see many kinds of birds flying above and below as they head for the shelter of the woods or soar above it all in the wind. Watch for bald eagles, hawks, and turkey vultures. In spring and fall, you might also see high-flying pelicans or geese flying in formation.
Caring for the land
Many who grew up in the Midwest might think of prairies and oak woodlands as common features in the region, but today they are both considered to be imperiled wildlife habitats in Wisconsin and worldwide. Development, mining, and the influx of non-native plant species are among the forces that have eliminated so many of them. With the increasing pressure of climate change, these habitats are especially critical for the survival of many native wildlife species – some of them rare or threatened.
Thanks to partnership between Mississippi Valley Conservancy and the City of La Crosse, Miller Bluff and other large sections of the La Crosse Blufflands are now permanently protected from development. If you are interested in helping with ongoing habitat restoration in the area, please consider volunteering or becoming a member of Mississippi Valley Conservancy.
Leave no trace
It's easy to see many side trails when you're on Miller Bluff, but heavy use can cause erosion and disrupt wildlife, so the La Crosse Parks & Recreation Department asks visitors to help minimize that risk by sticking to the main out-and-back trail. And, of course, be sure to carry out what you carry in.
After your hike
If you're up for the challenge and you parked at the end of Cty. Rd. FA, add a hike of the Quarry Trail. It features large sections of reconstructed prairie and many beautiful driftless landscapes.
If you're ready to quench your thirst and rub elbows with other outdoor enthusiasts, there are two watering holes on the way back into town on Bliss Road. Keep going toward downtown and Bliss Road becomes Main Street, taking you into the center of La Crosse where there are numerous cafes, restaurants, coffeehouses, microbreweries, and shops. If you go all the way to Riverside Park, you'll find the La Crosse Visitor Center in a small brick building at the north end of the park. There you can find loads of information about other sights and things to do in and around La Crosse.
Safety Advisory: Wear bright colors
Please note that hunting and trapping are allowed on many nature preserves, in accordance with Wisconsin hunting regulations and city and town ordinances. For details about the hunting season dates, please refer to the Wisconsin DNR hunting schedule. For more information about hunting on nature preserves protected by Mississippi Valley Conservancy, please read about our Nature Preserves.
Sign up today if you're not already signed up for the Trail Trek Challenge
It's a great way to get outdoors when and where it works for you. And it's FREE. Click for details and sign-up.
We thank these generous supporters of the 2019 Trail Trek Challenge:
Organic Valley, Franciscan Sisters of Perpetual Adoration, WKBT/News Channel 8, Mid-West Family Broadcasting, Altra Federal Credit Union, Crawford County Community Fund, People's Food Cooperative, Dairyland Power Cooperative, Kwik Trip, Trust Point, Inc., Verve-a Credit Union, and Viroqua Area Foundation