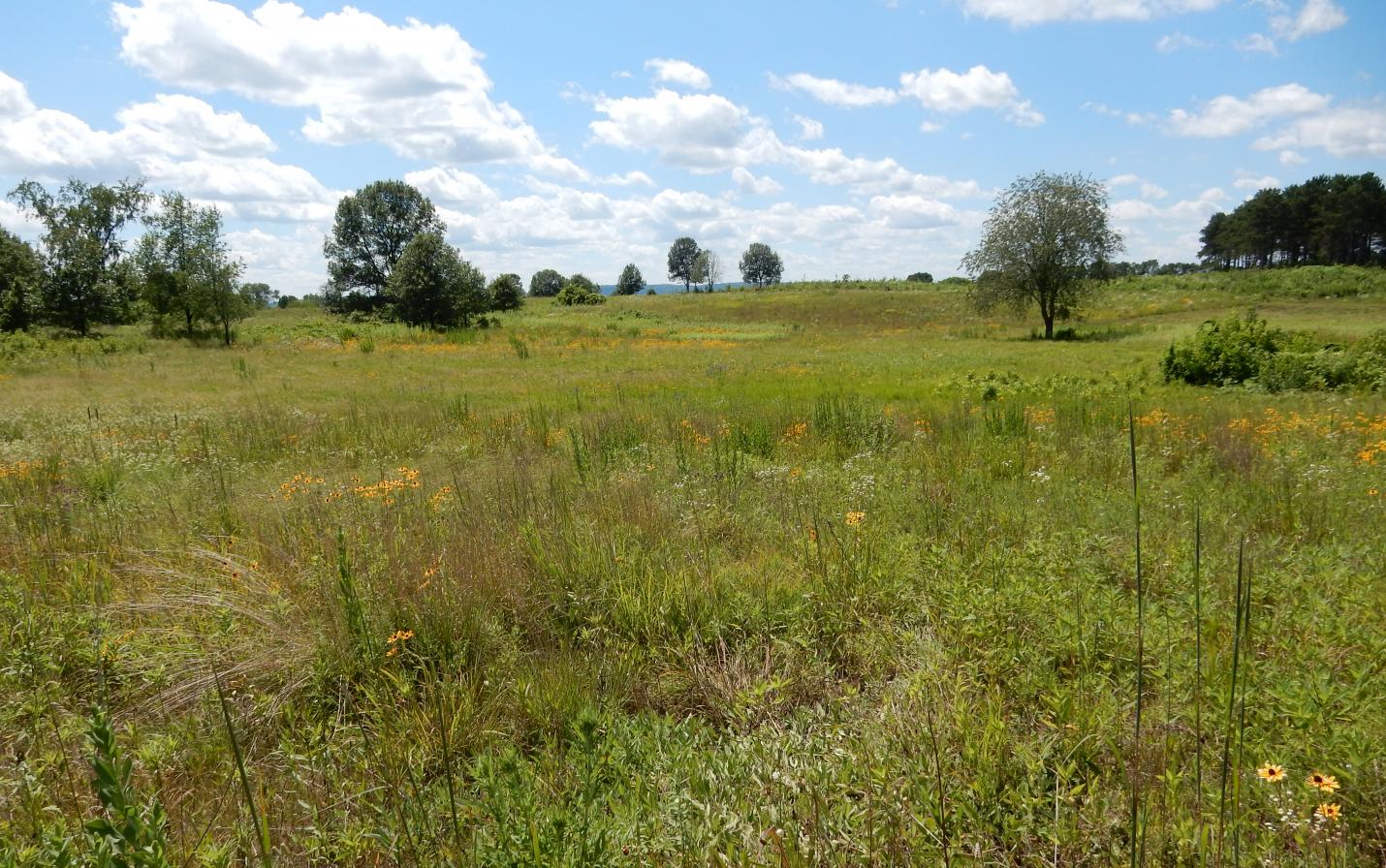 The Holland Sand Prairie sits atop an expansive Mississippi River Terrace, created about 12,000 years ago during the last ice-age, that stretches nearly 30 miles from south La Crosse to Galesville, WI. Once home to a great expanse of native sand prairie and natural dunes, the La Crosse - Galesville Terrace is now almost completely developed into cities, towns, and farms. The dunes and hollows on the Holland Prairie are the only undisturbed Aeolian (wind-formed) landforms in the entire area.
The most impressive attribute of the Holland Sand Prairie is the tremendous biodiversity existing on the site. Roughly 150 species of plants have been identified to date, some of which are State threatened species or species of special concern. Large, mature patches of relatively rare plants such as prairie smoke, silky prairie clover, and sand dropseed are scattered throughout the prairie.
George Varnum, a local prairie enthusiast who lived near the Holland Prairie, was the first person to begin documenting the rich diversity of native plants at the site. He contacted the WI-DNR about the prairie in 1997, and soon afterwards, efforts were underway by Mississippi Valley Conservancy to preserve this site. It wasn't until December 2004 that a deal was finally reached to preserve the 61 acres of the Holland Sand Prairie. Partners in the preservation were: Mississippi Valley Conservancy, Town of Holland, WI-DNR, The Prairie Enthusiasts and the Friends of the Holland Sand Prairie.
Some prairie activities for you and your family to do:
Recreation: Non-destructive recreation, such as observing and photographing flora and fauna. Activities NOT allowed are hunting, dog-walking, seed collection, taking of flora or fauna, non-pedestrian travel, camping, and other activities leading to site degradation.
Education: Scheduled hikes are offered to the public for the purpose of education. Hike participants can share knowledge and discuss aspects of prairie ecology and plant and animal identification. The prairie is open for use by school groups as a field classroom.
Restoration: The public is invited to join in scheduled work events. Activities include tree and brush removal, seed harvesting, fence building, trail maintenance, and conducting prescribed burns. Sign up on our Volunteer page to be notified of these scheduled activities.
Enjoy this virtual tour of the Holland Sand Prairie on an early summer day.
Land Type
Find Nature's Treasures
Nature Preserve
Protected
Trail Trek Challenge
Directions
W7781 Cty Rd MH, Holmen, WI - From La Crosse: Follow Hwy 53 north to CTY Rd MH exit. Turn left on to McHugh road and follow to trailhead which is just past Beaver Builder Supply. Trailhead pull off on the left.