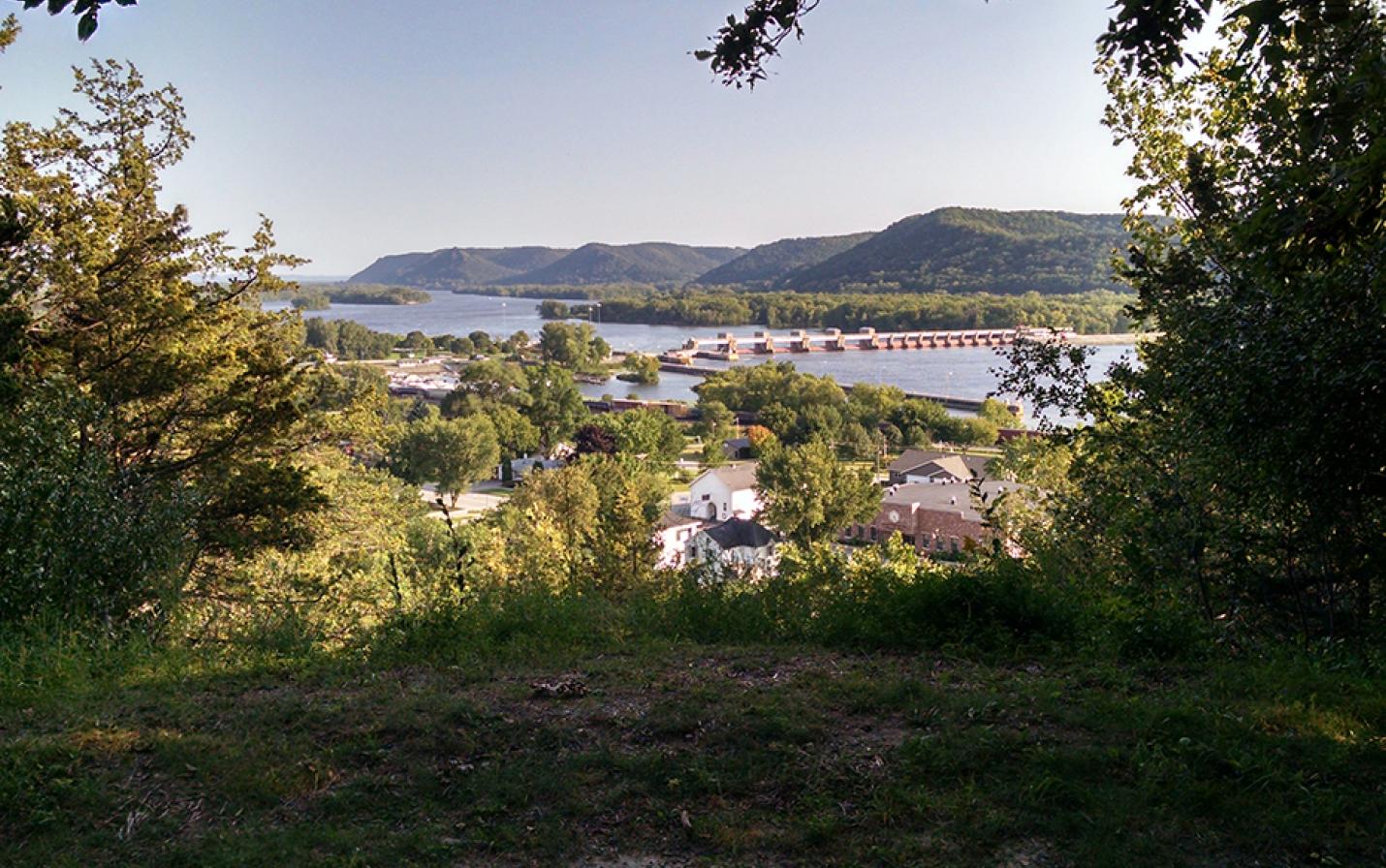 Little Bluff is a 19-acre nature preserve in the heart of Trempealeau, Wisconsin, a Mississippi River town. The property is owned by the Mount Calvary Lutheran Church ELCA, maintained by the Friends of Little Bluff, and permanently protected by Mississippi Valley Conservancy. The church welcomes the public to walk to the historic blufftop site.
Please stay on the designated trail.
The land adjoins another Conservancy nature preserve to the north and Perrot State Park to the west. Perrot, in turn, adjoins the Great River State Trail and the USFWS Upper Mississippi River National Wildlife and Fish Refuge, creating a corridor of over 1,500 acres dedicated to wildlife habitat.
The land is within the Mississippi River migratory flyway, and its numerous fruit and nut trees provide food and shelter for migrating songbirds. Historically the blufftop would have been a mix of prairie and oak savanna, and indicators of that history are still visible, as broad spreading bur oak and white oak trees flank the trail along the ridgetop.
The Little Bluff Mounds Interpretive Trail, developed by the Friends of Little Bluff, highlights the changes that ancient Mississippian people made to this landscape. A thousand years ago, some residents of Cahokia, in present-day Illinois, traveled 530 miles up the Mississippi River and founded a community at Trempealeau. Those who visit the Little Bluff Mounds Interpretive Trail can learn what archaeologists have discovered.
Photo courtesy of Robert Boszhardt.
Land Type
Nature Preserve
Protected
Trail Trek Challenge
Directions
How to get to the trailhead from La Crosse: From Hwy 53 North, take the Hwy 35 North exit toward Trempealeau. Turn left/west onto Hwy 35 North and go 7.9 miles to Main St. Turn right/north and park on Main St. The trailhead and kiosk are on the left/west.