A community service program for all of La Crosse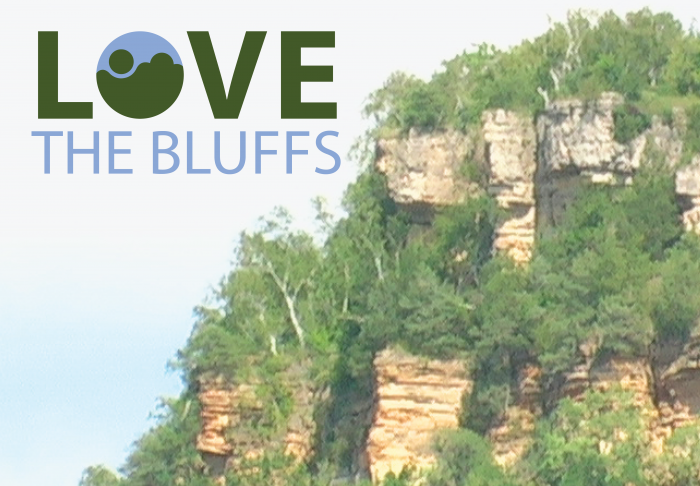 The La Crosse Blufflands – the ancient beauties that form the backdrop of the City of La Crosse – need help from all of us. Owned by the City of La Crosse and protected by Mississippi Valley Conservancy, the La Crosse Blufflands serve as a unique natural resource that offer many benefits to the entire community, including a wide variety of native plant and wildlife species.
Love the Bluffs was created to nurture a tradition of caring for the city's most beloved landscapes. In its first year (2019), the program focused on the La Crosse Blufflands–North and created a model for future improvements in other parts of the blufflands. It involved volunteer activities for habitat restoration, new interpretive signage, and outreach communications to help everyone understand what they, as individuals, can do to "love the bluffs."
Volunteer activities
Today, we invite you, your business, or your organization to get outdoors and get involved in caring for the La Crosse Blufflands. Sign up to receive notifications of upcoming volunteer activities. There's no obligation to show up. Signing up simply gives you information about planned projects so you can help out when you're available. Our partner in coordinating and leading volunteer activities in the La Crosse Blufflands is Friends of the Blufflands. Let's build a tradition together! Click here to sign up.
If you'd like to help organize a special volunteer project for your business or organization, contact us at [email protected].
Interpretive signs and maps
The City of La Crosse is our primary partner in the Love the Bluffs program. Together, we're updating trailhead kiosks and adding a few carefully placed interpretive signs on three properties in the north blufflands. Our goal is to create greater awareness of how and why the blufflands and their native plants and wildlife need care from the community. Improved communication and visibility of park policies and designated trails will be included in the trailhead kiosk updates. Installation of the updated kiosks and signs has begun and should be complete before the end of 2021.
Outreach communications
In early November 2019, we launched a social media campaign called "Take 5 to Love the Bluffs" to reach as many community members as possible with easy things that anyone can do to help out when visiting the La Crosse Blufflands. You can see the series of short videos here.
Support
The Love the Bluffs program was made possible in part with funding from the La Crosse Community Foundation and our many conservation partners in the community. Contact us if you want to help support the program at [email protected].
Love the Bluffs 2019 volunteers