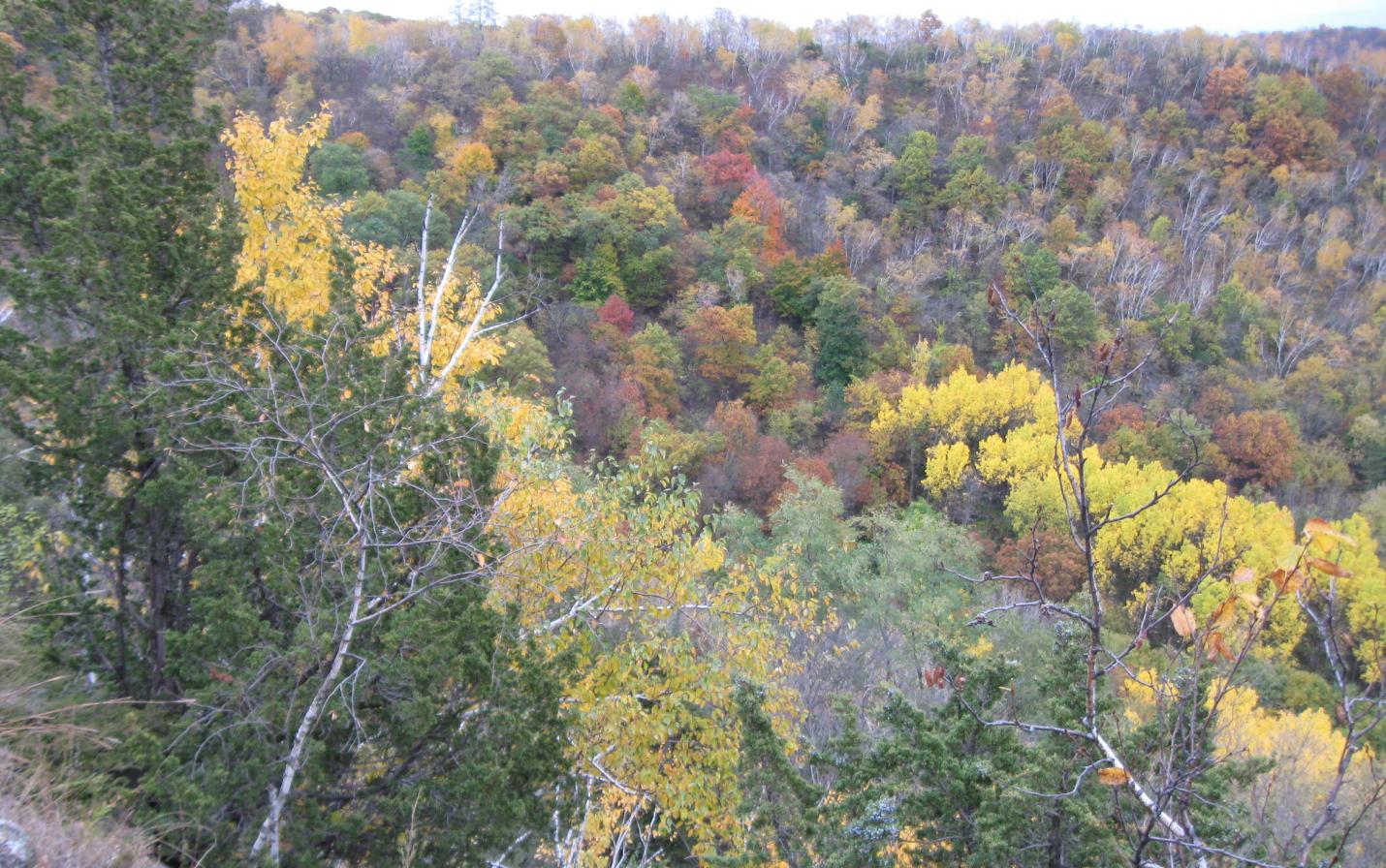 FALL COLOR HIKE TO INCLUDE MINI YOGA SESSION
Guided hike of beautiful Miller Bluff offered by Mississippi Valley Conservancy.
LA CROSSE, WI – September 26 2017 – The popular yoga hike of Miller Bluff will again be offered by Mississippi Valley Conservancy, on Saturday, October 14th, 2017. Located on top of the bluff, this hike features amazing views and easy yoga to enrich mind, body, and spirit. It's part of the Conservancy's 2017 "Linked to the Land" series of outdoor activities sponsored by Mayo Clinic Health System–Franciscan Healthcare of La Crosse.
This event offers a family-friendly hike out to the spectacular overlook of Miller Bluff.
Participants will follow the guide out to the bluff prairie to participate in an easy and comfortable yoga session while taking in the spectacular views. Yoga mats are not required, and the yoga session will be very basic and easy. The focus will be relaxing in nature and the yoga activity will include stretching and a brief period of silence.
When: Saturday, October 14
10:00 – 11:30 a.m.
RSVP's are appreciated for this free event. RSVP by email to [email protected] or call 608-784-3606 ext. 6
Directions: From La Crosse – take Bliss Road up past the Alpine Inn. Turn left on FA and travel 1.5 miles to Rim of the City Road. Turn left on Rim of City and drive to the end.
###
ABOUT MISSISSIPPI VALLEY CONSERVANCY
Founded in 1997, Mississippi Valley Conservancy is a nationally accredited regional land trust that has permanently protected nearly 20,000 acres of scenic lands in southwestern Wisconsin by working with private landowners, businesses and local communities on voluntary conservation projects. The focus of the Conservancy is to conserve the bluffs, forests, prairies, wetlands, streams and farms that enrich our communities, for the health and well-being of current and future generations.