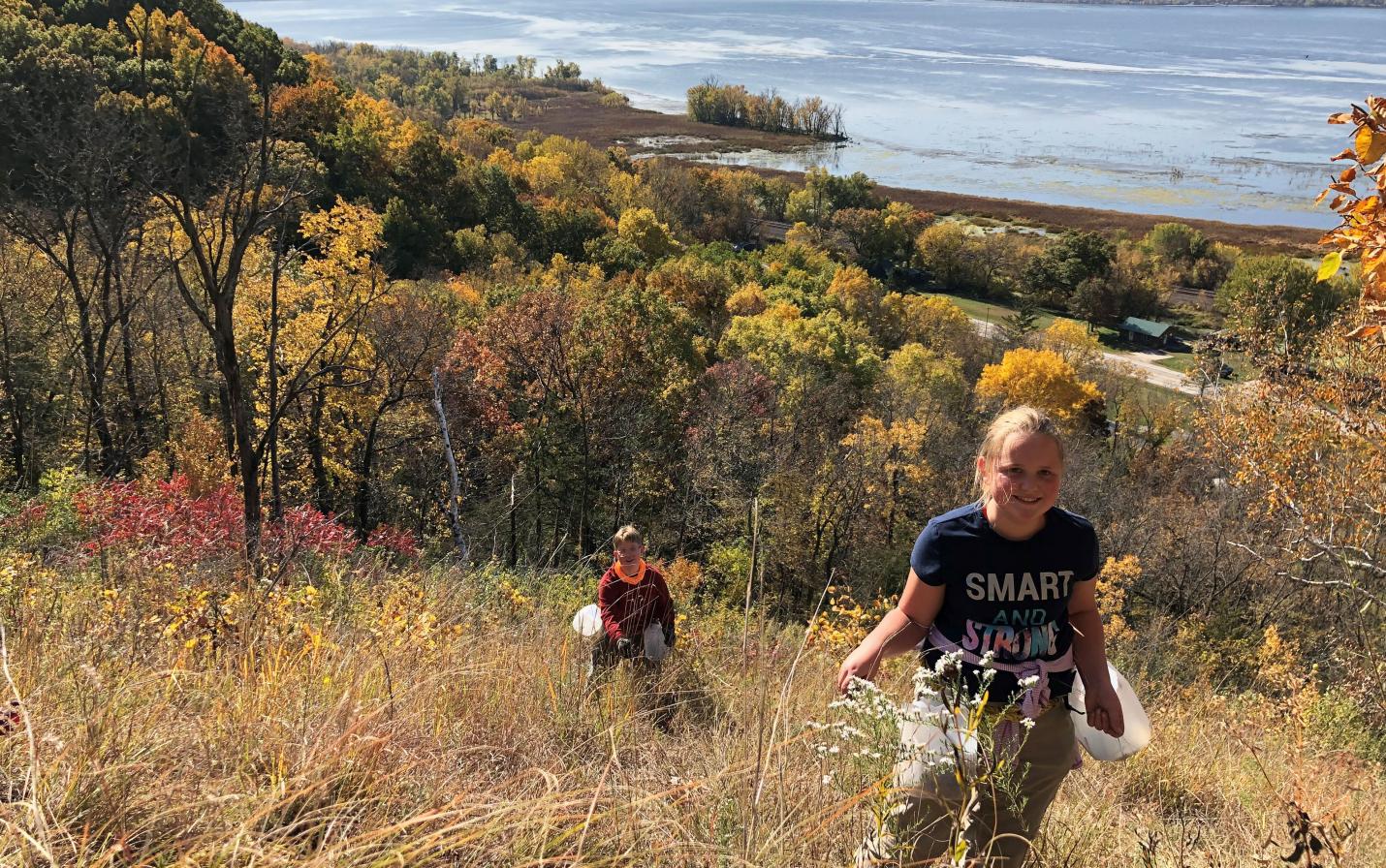 Mississippi Valley Conservancy owes much of its success and many thanks to the hundreds of volunteers who've donated their caring time and talents to the work of protecting what we all love about Wisconsin's Driftless Area. Each of the people who are recognized with our 2021 Volunteer Awards brings unique interests and talents to the challenges of land conservation. This year we celebrate a videographer, a pilot, a mapmaker, a site steward, and a couple who helped to get the Conservancy off the ground nearly 25 years ago. We thank them all, and many more, for all they've done to protect land, water, and wildlife.
Whether your talent lies in the forest, in the kitchen, in the farm fields, under the hood of a truck, at the piano, behind a camera, or in the office, there's most likely a way for you help protect air, land, water, and wildlife. If you'd like to learn more about volunteering, visit our volunteer page on this website.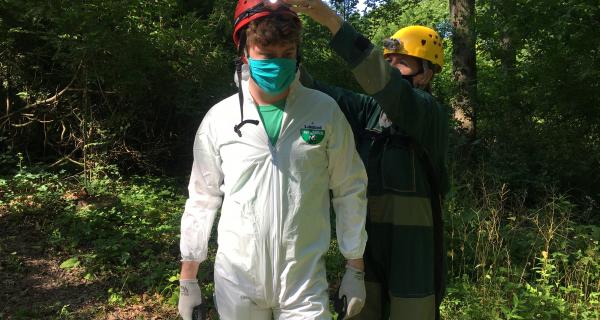 Outreach & Education Volunteer of the Year: Caleb Gilboy
Caleb responded to a social media post we had put out in search of a volunteer videographer. Due to the pandemic, all our guided hikes had been cancelled, and we needed new ways to engage people with nature. He knew who we were because he lives on the northern edge of New Amserdam Grasslands and he had seen our name on the signs there.
Caleb had recently earned a bachelor's degree in Film & Media Studies from Arizona State University, and he was itching to apply his growing skills to an exciting project. He donated many hours (days and nights!) of his time to filming and editing a two-part video tour of Kickapoo Caverns that has been viewed by nearly 3,000 people on our You Tube channel where it lives today! He said, "The project was even more fun than I expected because I got to go in the cave!"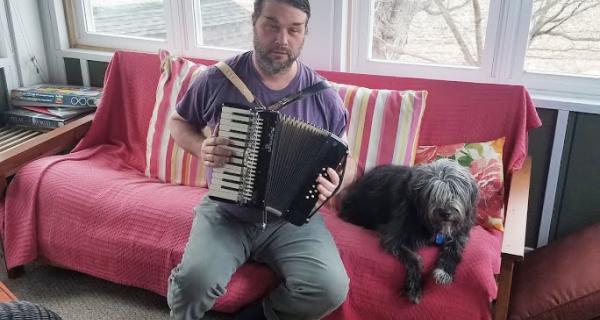 Conservation Volunteer of the Year: Ben Johnston
Ben Johnston is a map guy. As program associate for the Kickapoo Valley Reserve, Ben has been a key player from the start in the Kickapoo Bird Habitat Initiative making maps that help organize efforts to preserve and restore key bird habitat along the Kickapoo River.
"He has spent an unbelievable amount of time working on the project," according to Krysten Zummo, stewardship associate for the Conservancy. Using GIS mapping software, Ben has created nearly one hundred essential maps illustrating land cover, habitat, land ownership, and bird survey points.
"We're trying to tap into the idea that people can do more for birds," says Ben. "Actually I'm selfish—there are a lot of good birders out there." Ben says he learns a lot from being in the field with them.
The Kickapoo Bird Habitat Initiative is a partnership among the Conservancy, Kickapoo Valley Reserve, Wisconsin DNR, Valley Stewardship Network, with a grant from the Cornell Lab of Ornithology.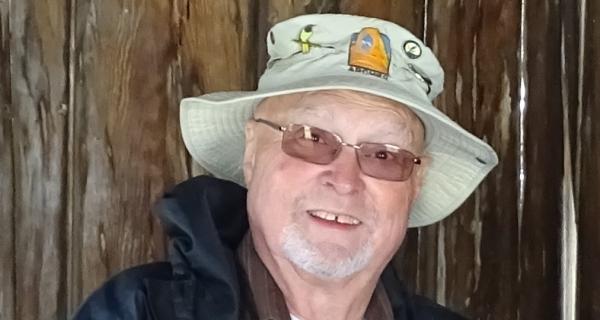 Land Stewardship Volunteer of the Year: Ken Cornish
Back in 2017, Ken Cornish saw a request from the Conservancy looking for volunteers to give tours of Kickapoo Caverns in Crawford County. He thought it would be a good way to use his Master Naturalist designation and was soon well-versed on caves and bats. In 2019 he volunteered to be Site Steward for the entire Kickapoo Caverns property.
"If you'd have asked me about it twenty years ago, this is not what I thought I'd be doing," laughs Ken, a retired chief financial officer for rural hospitals. As site steward he keeps an eye on the property, maintains locks and gates, and monitors field cameras for wildlife and trespassers. He works tirelessly on eradication of invasive species and assists Conservancy work crews in habitat restoration. Ken is quick to point out the personal benefits of being site steward at Kickapoo Caverns. "Sometimes I go and just walk the land to get to know it. I enjoy the solitude."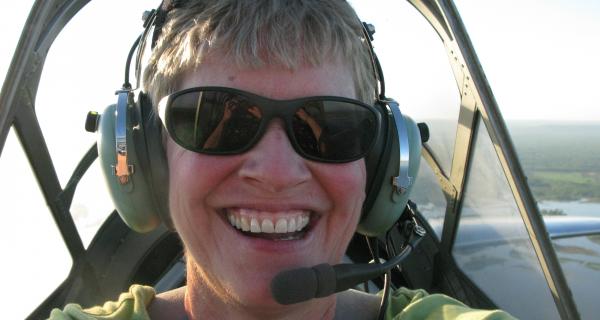 Special Expertise Volunteer of the Year: Carol Kratz
Carol Kratz is an avid hiker, devoted traveler, and physician assistant for Mayo Clinic Health Systems.
She is a 20-year Mississippi Valley Conservancy member who does her volunteer work from the air. As owner (with husband Drake Hokanson) of a single-engine Cessna, Carol conducts the navigating and flying portion of annual easement monitoring for a portion of the 110 properties that the Conservancy monitors each year. Meanwhile, Drake takes the photographs of each property and does the paperwork.
In 2020 Carol monitored 14 properties from the air, covering most of the nine county region on two long flights, saving the Conservancy staff time and fuel. "The driftless region is a beautiful part of the country," says Carol. "And it is a privilege to see it from the air while doing some useful work."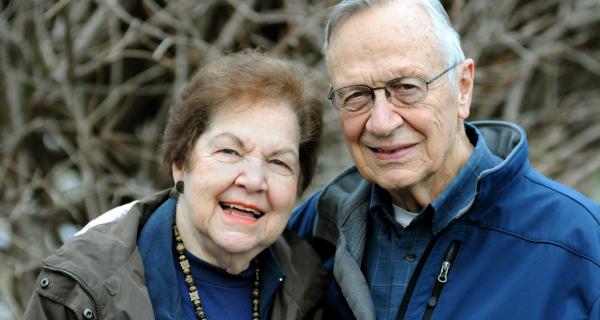 Lifetime Achievement Volunteers of the Year: Don and Barbara Frank
Don and Barbara Frank were here at the inception of Mississippi Valley Conservancy, and their devotion has not dimmed over the following 24 years. They were leaders in protecting the La Crosse Blufflands by donating land that is remains as part of the city's beautiful scenery and wildlife habitat today. Barbara is a founding board member of the Conservancy, and both she and Don have served multiple board terms and continue as Emeritus board members. They continue to volunteer and provide financial support.
Throughout the years Don's background in business has helped the Conservancy keep its eyes on good management and financial practice, while Barbara's membership on the national Sierra Club board has brought continent-wide perspective to regional conservation issues. Both have long been committed to serving the community through support of the environment, the arts, and health care.
"It's easy to jump on these wagons," says Barbara. "Or help pull them."