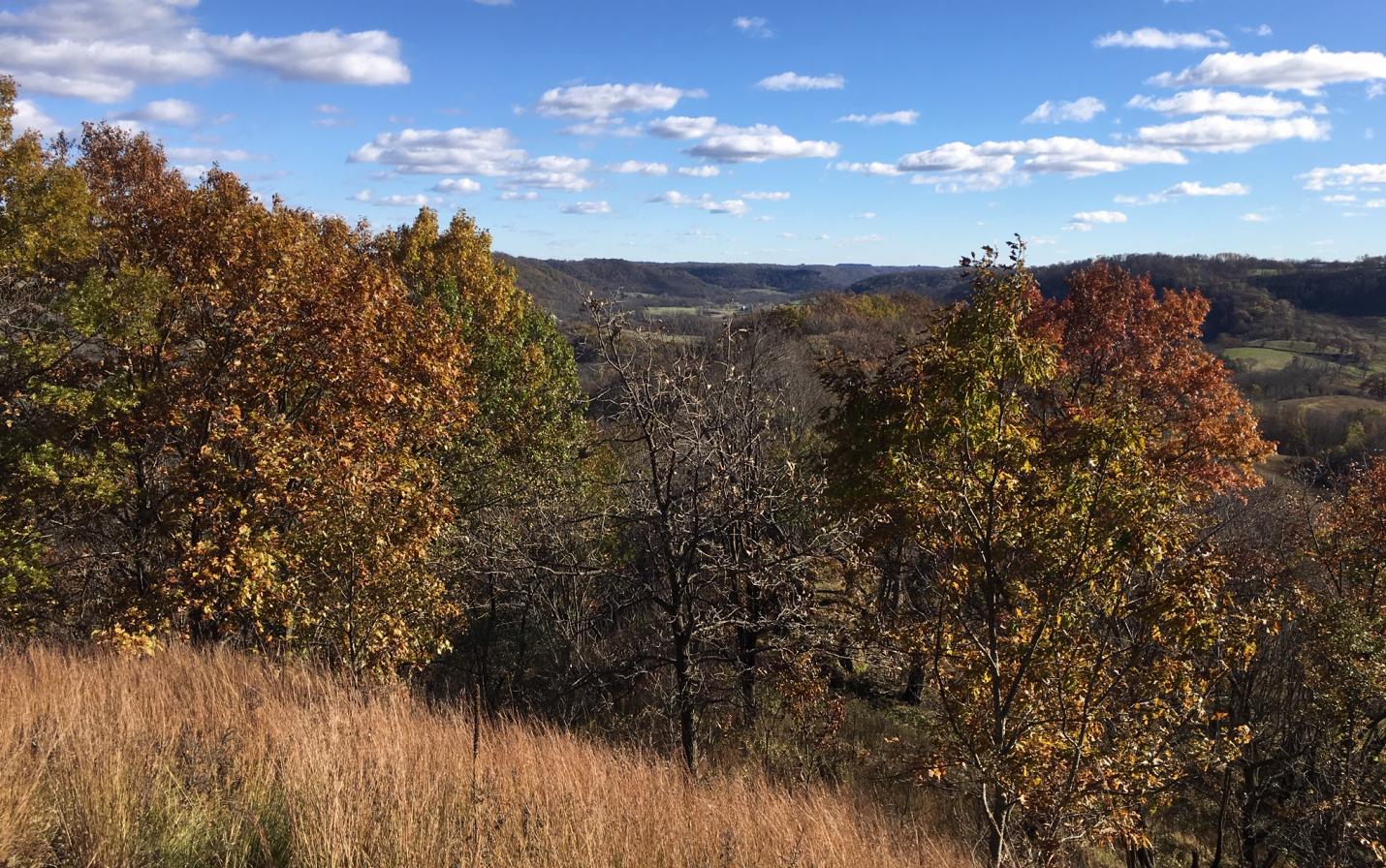 Hiking at Tunnelville Cliffs southeast of Westby, Wisconsin, began with an email from Tom, a hiking buddy I have known for many years. He wrote, "It's been too long. We need to catch up. Let's go hiking." And so we met at the Westby IGA the next Friday morning and spent several hours exploring Tunnelville Cliffs and other parts of the Driftless Region.
I am blessed with several hiking partners: two in La Crosse, one in Cashton, one in Eau Claire, one in Minneapolis.... and a special friend Susan in Idaho. Each one enriches my life in a different way as we share our passion to be outdoors exploring red rock formations in Utah, alpine forests in Washington, and hidden caves and waterfalls in Montana. My life is a better life when I am with them. I am also blessed to live near Mississippi Valley Conservancy land; I know that I am a better person when I venture into coulees, across meadows, and up sandstone cliffs that the Conservancy protects. The community-supported organization preserves the health of the creeks, open grasslands, rivers, and wooded ridges...and this dedicated land safeguards our health as well.
My only negative criticism of the Tunnelville Cliffs is that the trails are too short! Tom and I had no difficulty finding the center access kiosk at the intersection of Tunnelville Road and Husker Hollow Road. On the trail we talked of family, friends, ambitions, and fears in the midst of the current pandemic. But we also enjoyed passing through fields of Black-eyed Susans, enough milkweed to keep the monarch butterflies happy, Queen Anne's lace, purple aster, and wild raspberries. The views on both sides of the ridge reminded me of the beauty in the world that exists if we only take time to seek it.
Tom and I found the east entrance covered by water. We had had a strong rainstorm the night before, and a Kickapoo River tributary had flooded the path. But we found another MVC kiosk off of Cty. Rd. SS and Tunneville Road. There was not a discernible path, and so we forged our own trail through waist high prairie grass still wet with dew. For a few minutes I was taken back to a time when the prairie grass must have seemed endless to the natives and early settlers. Every hike is an adventure. Every hike conceals a hidden treasure. For Tom, it was a bird's nest neatly crafted not in a tree, but in a clump of bushes and tall grass. For me it was several deer rests in the middle of the grassland. I don't hunt, but I don't oppose hunting. My acquaintance with deer is only from trying to avoid hitting those I see late at night on the road, and quietly admiring those I see grazing in the fields off of Cty. Rd. B in the early morning and early evening. And so it was a revelation for me to see where deer sleep, or maybe just rest in the heat of the day – hidden deep in the tall grass high on a goat prairie.
My time with Tom reminded me of a poem by John O'Donohue, "This Is the Time to Be Slow."
This is the time to be slow,
Lie low to the wall
Until the bitter weather passes.
Try, as best you can, not to let
The wire brush of doubt
Scrape from your heart
All sense of yourself
And your hesitant light.
If you remain generous
Time will come good;
And you will find your feet
Again on fresh pastures of promise,
Where the air will be kind
And blushed with beginning.
Mississippi Valley Conservancy's nature preserves provide us with fresh pastures of promise at this time when we need them the most. At Tunnelville Cliffs the air is clean and kind, and anyone who ventures there will find debilitating doubts scraped from your soul. You will find that sense of yourself that comes from conversing with the land and with good friends or with yourself. Now, at this time of "bitter weather" I feel a need to return often to plant my feet at Tunnelville Cliffs beside the beds where the deer rest.
Grant Smith is a retired Viterbo University English professor.
Learn more about Tunnelville Cliffs State Natural Area and download a trail map.
Sign up for the Trail Trek Challenge.