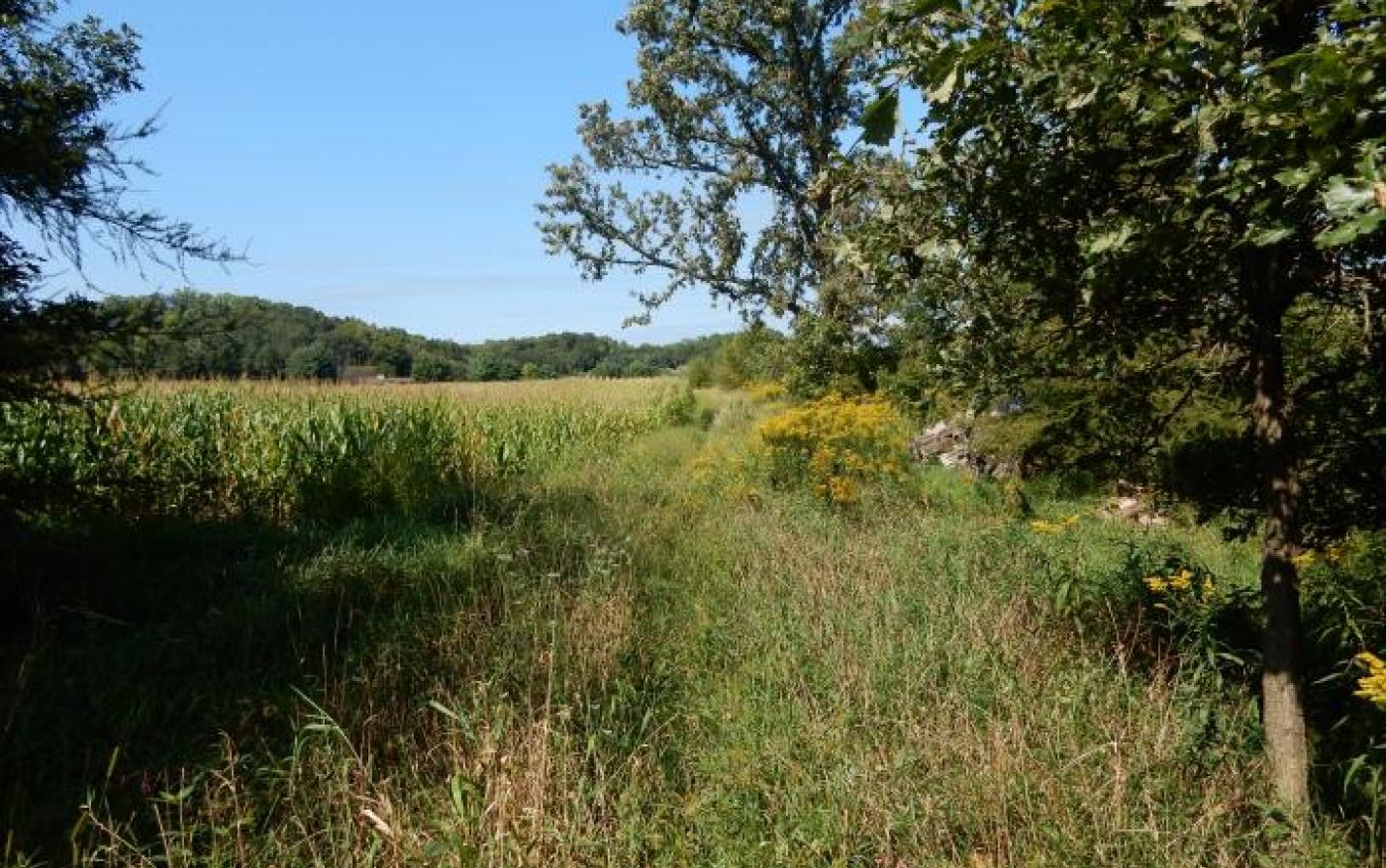 LA CROSSE, WI – October 3, 2019 – A new land conservation agreement between Mississippi Valley Conservancy and a landowner in La Crosse County will protect valuable wildlife habitat and farmland. The landowner, who wishes to remain anonymous for this story, takes pride in knowing that the land will continue to be farmed using conservation-friendly practices, protect wildlife habitat, and provide the public with beautiful scenic views for generations to come.
La Crosse County has experienced fragmentation of natural landscapes and farmlands as a result of housing development. The County established a farmland preservation plan for 2007-2027 and this site falls within a priority area for farmland. Soils on the land include areas designated as prime farmland and other areas designated as "farmland of statewide importance." The property, which has frontage along the La Crosse River, features perennial cover and native vegetation that helps provide flood protection to downstream communities by slowing runoff during extreme weather events. Thanks to the stewardship efforts of the landowner, who personally has planted over 4,000 trees on the property, the land has incredible natural resources that benefit wildlife, pollinators, and the community. The agricultural fields on the land are managed with conservation practices such as grassed waterways and no-till planting methods, both of which help prevent topsoil loss and erosion.
"This conservation agreement is visionary," said Maureen Freedland, La Crosse County Board Supervisor. "It truly helps us to strategically balance long-term residential or commercial development to enhance the communities' rural atmosphere, prevent soil erosion, and protect the farmland that feeds us."
According to the landowner, many people over the years have sought to purchase the property in order to build multiple homes. "This property is adjacent to other protected lands, and one of the most effective ways to conserve natural resources is through large, continuous tracts of habitat. By connecting these 75-acres to already protected property, the natural resource benefits improve exponentially" said Conservancy Executive Director Carol Abrahamzon.
The Conservancy works locally to protect natural resources and farmland and has protected over 20,800 acres Wisconsin's nine-county Driftless Area, including over 16,000 acres protected through conservation easements with private landowners. Each acre protected contributes to the resiliency of the region's watersheds during potential floods by slowing and absorbing water. According to the USGS Water Science School, one inch of rain falling on one acre of ground produces about 27,154 gallons of water. If farmland and forests are developed and paved with impervious surfaces, the rainfall is not slowed, and the increased velocity can cause erosion and property damage.
"Prime farmland in La Crosse County is extremely vulnerable," said Abrahamzon, "and real estate subdivision is one of the greatest threats. The newly protected land on the La Crosse River includes conservation practices to reduce runoff and erosion to keep our soils on the land and out of the waterways. Farmland preservation is an integral part of the mission of the Conservancy."
Mississippi Valley Conservancy works with willing landowners in nine-counties of western Wisconsin to permanently protect the natural heritage of the Driftless Area against unsustainable adverse land uses.
###
About Mississippi Valley Conservancy
Founded in 1997, Mississippi Valley Conservancy is a nationally accredited regional land trust that has permanently protected more than 20,800 acres of scenic lands in southwestern Wisconsin by working with private landowners, businesses and local communities on voluntary conservation projects. The focus of the Conservancy is to conserve the forests, prairies, wetlands, streams and farms that support native wildlife and enrich communities, for the health and well-being of current and future generations. Learn more about programs, services, events, volunteer opportunities, and membership at www.MississippiValleyConservancy.org.
Media contact:
Carol Abrahamzon
Executive Director
608-784-3606 Ext. 4
[email protected]