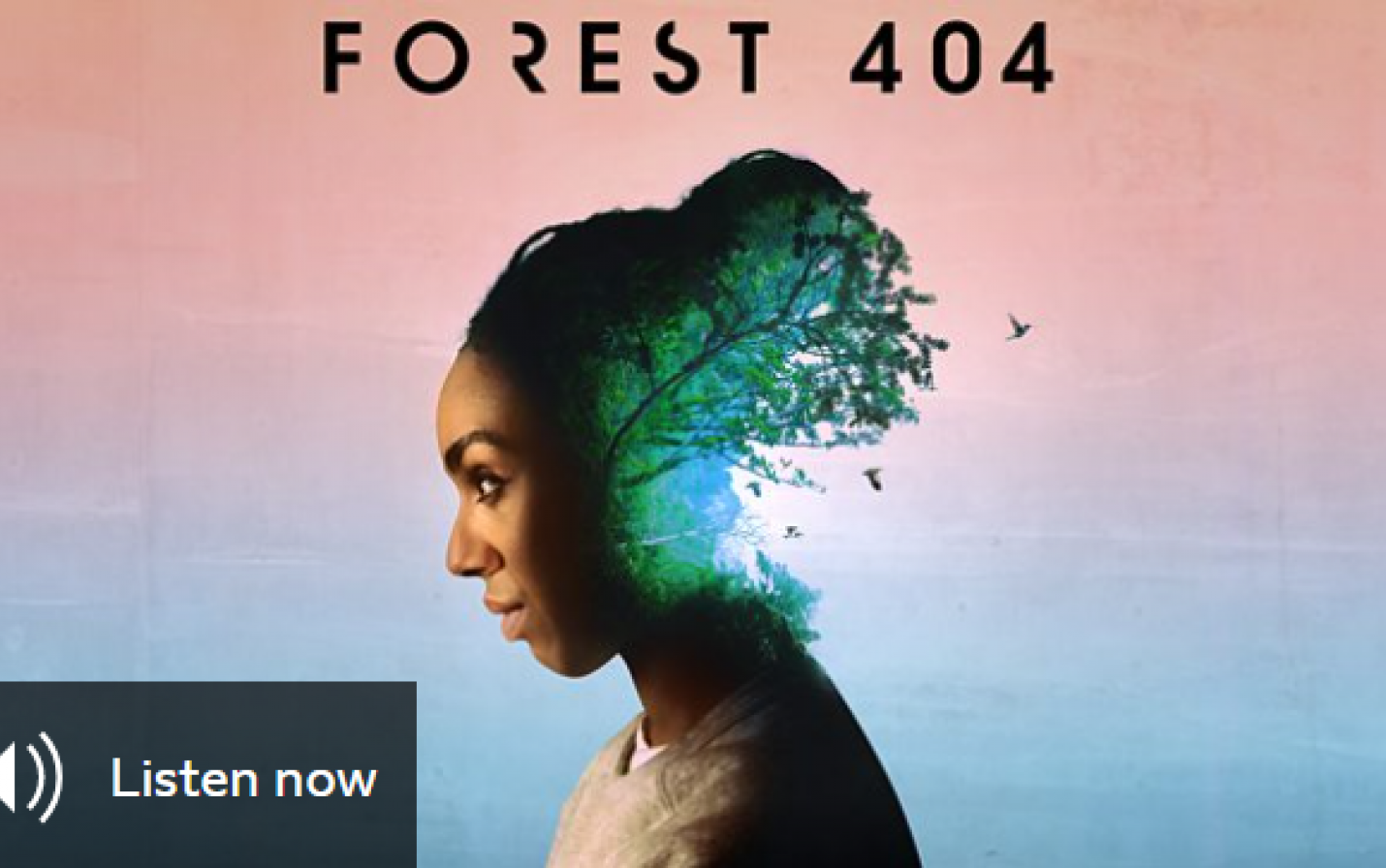 If nature was destroyed, how could we know it? In Forest 404, the main character, Pan, discovers nature as a world long destroyed, and she wonders how she can connect to a world that long ago was removed from existence.
Forest 404, set in a technologically advanced dystopia centuries after a climate disaster has reshaped the world, follows a lesbian protagonist as she rediscovers her connection to nature. Working as a digital archivist, Pan discovers a recording of the rainforest that reshapes her world, and her understanding of it, long after nature has suffered from the same stresses our society faces now. As a podcast, 404 builds connection in ways that transcend other mediums, through soundscapes and talks that center listeners not only in the world of the podcast but in how it relates to our world as well. Similar to forest bathing, Forest 404 surrounds listeners with the natural world through their ears (headphones or earbuds are highly recommended while listening) and begs listeners to look into their own relationships with the world we live in.
Today, an obsession with technology dominates modern conversations around sustainability and conservation. While technology has created some of our most devastating ecological concerns, Forest 404 takes that a step further, asking how we could connect to nature when technology dominates the world. While the podcast is an enthralling narrative of science fiction and adventure, it also has much to teach us about our own world, and the dangers technology can pose when allowed to run rampant.
Forest 404 is structured around 3 types of episodes all centered around one moment in the story: 1) an episode, where the plot of the podcast advances, 2) a soundscape, where the sounds of nature from the episode are recorded without audio, and 3) a talk, where a professional or academic discusses a topic relevant to a theme of the episode. With nine episodes (twenty-seven disparate publications) Forest 404 is a commitment in terms of time, but the podcast is well worth it. The diverse topics around each episode ground the fiction within an application of our own world, helping listeners analyze each episode and picture themselves in the world.
Finally, Forest 404 embraces characters that rarely are seen within climate media and conservation. Characters of people of color and LGBTQIA+ people are often absent from mainstream climate conversations, and this podcast embraces those same characters. For those who may have felt alienated or disconnected from other media, Forest 404 is highly recommended. And for those who look to expand their understandings of diverse climate experiences, even more so.
Change to our world is unavoidable. Global disruption of climate will soon become a fact of life, but Forest 404 questions how we as a species will respond. Will we embrace nature and heal the world that has raised our species from our infancy? Or will technology reign supreme, the human world replacing the natural? That question is for us to decide, and Forest 404 is a pristine exercise in that thought.
Where to find the podcast: https://www.bbc.co.uk/programmes/p06tqsg3
Or Google: BBC Forest 404 Podcast
Sam Fritz is a student of environmental literature at the University of Wisconsin-La Crosse