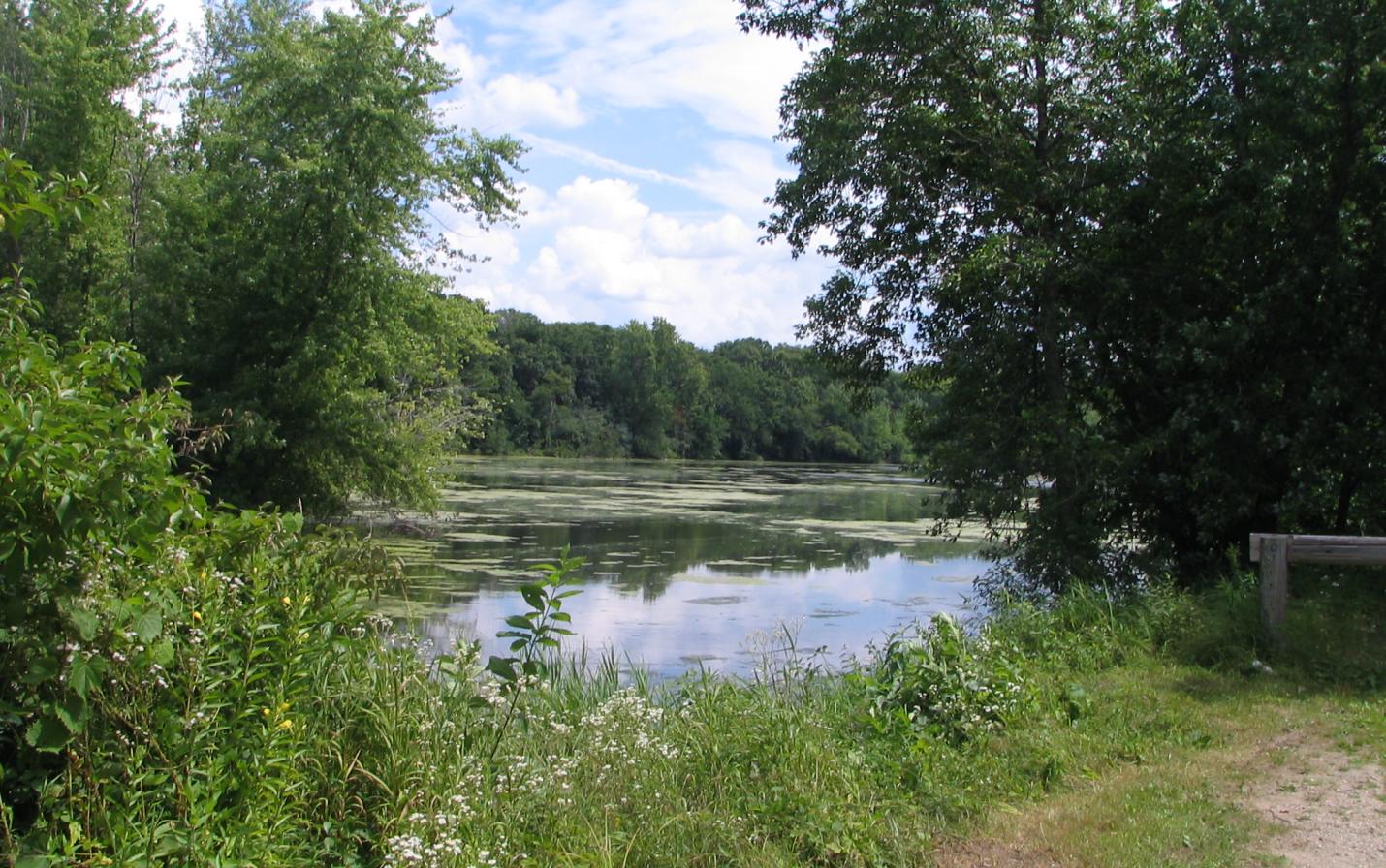 I delayed writing about the Trempealeau Lakes Trail for several months. I first hiked the three-fourths-mile trail in the late spring. The trail, located between Lake Road and the railroad just north of the lock and dam, is easy to find. It is wide, easy, and flat. I saw evidence of beaver. I saw beautiful white pine, red pine, river birch and white oak. Wild plum trees were in bloom, as were the lobelia, meadow rue, and Indian pipe. The water was high, and some parts of the trail near the "lakes" were marshy, perfect for the frogs we could hear croaking along the way. But the short hike didn't inspire me. There were no panoramic vistas, no overlooks to the Mississippi River, no stunning rock formations. I thought to myself, "I would not want to hike here in the summer – probably too many mosquitoes."
A few weeks later I hiked the trail again, only this time I hiked it with a good friend and his two sons, ages eight and six. For me, the trail was still unimpressive, and I spent my time talking politics with my friend as his two boys raced ahead, then fell behind, then raced ahead. For them, the hike was perfect: no steep hills or bluffs; plenty of sticks, rocks, and flowers to examine, and most importantly, an hour to be in a wooded area they had not explored.
At the end of the trail, before it loops back to the trailhead, we met another father and his two sons. They were fishing. One boy, he could not have been more than four years old, was changing his clothes behind his dad's pickup truck – carefree, unconcerned about showing his bare bottom to strangers. He was in a natural uninhibited world! The father came to hurry his son along and we spoke briefly.
"Do you come here very often?" I asked.
"Yeah, I bring the boys here on the weekends, whenever I can."
"Do you catch many fish?"
"Sure," he replied. "Even the little one usually catches something."
I looked at the older boy fishing on the bank, and then I realized that I was wrong about the Trempealeau Lakes trail. It was not boring. To small boys, the trail was a grand adventure where they could run, explore, investigate, ask questions, turn sticks into weapons, and if they were lucky, catch a fish or two with their dad. The boys didn't need spectacular scenery or challenging climbs; they only needed a place in the "wild" to be with someone to teach them about the hidden treasures in "boring places." To the father it was a place to teach, a place to bond, a place to be free with his sons.
The Trempealeau Lakes Trail reminded me of what is important in life. Yes, we need to be informed during a general election. Yes, we must take precautions in this time of the COVID pandemic. But this father fishing with his son reminded me that nature provides the best setting for teaching others about what is important in life. I thought to myself, "These boys years from now probably won't recall their favorite TV show. They won't remember the challenges of 2020. But years from now, they will remember fishing with their father and the boyhood thrill of spotting a snapping turtle sunning itself on a log, and the excitement of feeling a tug on a fishing pole.
I'll go back to the Trempealeau Lakes Trail again. But this time I won't talk politics with my friend. Instead, I'll look for nuthatches and chickadees, and I'll listen for pileated woodpeckers. I'll try to identify the wild flowers and the black-cap raspberries. I will forget that I am a 70-year-old man with a bothersome knee, and focus instead on being an eight-year-old boy experiencing the wonders of nature only a few miles from home.
Grant T. Smith is a retired Viterbo University English professor who has hiked to the highest point of each of the 50 states except Alaska where he settled for hiking around Denali. He lives in La Crosse.
More information and a trail map for the Trempealeau Lakes nature preserve are available at this link.