May 7, 2022
7:00 a.m.–8:30 a.m.
Location
Sugar Creek Bluff near Ferryville, WI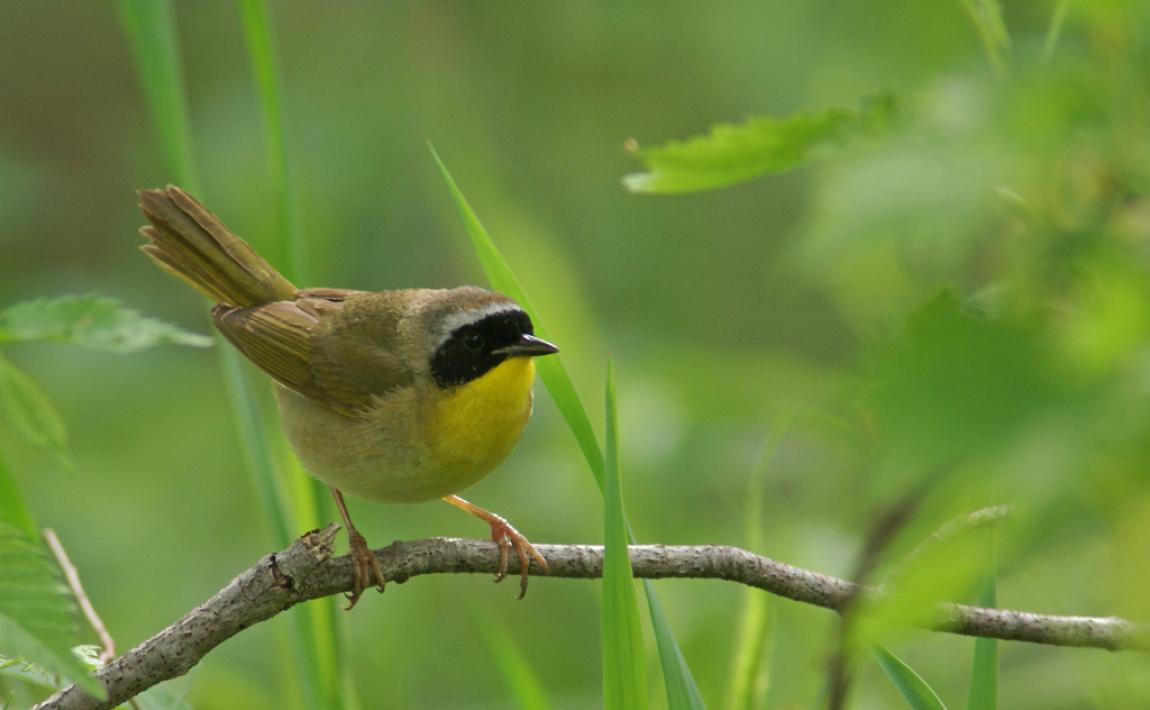 Just in time for Mother's Day, we're hosting a free guided birding walk at Sugar Creek Bluff State Natural Area (SNA) on Saturday, May 7, 2022. This bluffland walk is recommended for anyone who wants to learn more about migratory birds while enjoying the sights and sounds of spring in a beautiful natural setting. Participants will spread out in small groups, guided by knowledgeable staff and volunteers. This event is part of the Conservancy's 2022 "Linked to the Land" series of outdoor experiences on the many nature preserves it protects for wildlife habitat, scenic beauty, outdoor learning and recreation in the Driftless Area.
From the banks of Sugar Creek near the Mississippi River rises Sugar Creek Bluff, a 440-acre bluffland nature preserve. With its beautiful meadows, forests, and prairies the property provides much needed habitat for rare and threatened bird species. Birds seen on previous hikes through this State Natural Area have included the red shouldered hawk, the whip-poor-will, the grasshopper sparrow, the cerulean warbler, and the blue-winged warbler. Conservancy staff and volunteers will guide participants to listen for, watch, and identify the various birds that are returning or passing through the area after wintering as far away as South America. Binoculars will be provided for those who don't have them,
ADVANCE REGISTRATION IS REQUIRED for this FREE event. Sign up below by Noon on Friday, May 6. With questions, contact Sarah Bratnober at [email protected] or call 608-784-3606 ext. 8.
PLEASE NOTE: No dogs are allowed at this nature preserve.
WHAT TO WEAR: Tick season is here. We recommend long pants tucked into socks plus walking shoes or boots and A) good tick repellent with permythrine applied to clothes or B) Abbie's Tick Spray which can be applied to skin and clothes.
Photo of common yellowthroat by A.B. Sheldon
Registration for this event has CLOSED.
May 7, 2022
7:00 a.m.–8:30 a.m.
Location
Sugar Creek Bluff near Ferryville, WI
Directions
Allow yourself extra time to get there. Due to road construction on Hwy 35, people coming from the north have two options:
A) Follow the detour signs
OR
B) Cross the river in La Crosse to La Crescent and drive down the MN / Iowa side to the Lansing bridge (Hwy 82). Cross back into Wisconsin and take Hwy 35 south to Ferryville. Both ways are going to be longer than coming all the way down 35 from LaCrosse (by 15-20 minutes) but both ways are very scenic.
Continue on Hwy 35 (Great River Road) through Ferryville and turn left on N. Buck Creek Road. Follow N. Buck Creek Road to the top of the hill (1+ miles). The trailhead and kiosk is on the left with a small parking area. If the parking area is full, please park along the side of the road.