Trail Trek Challenge Hike of the Month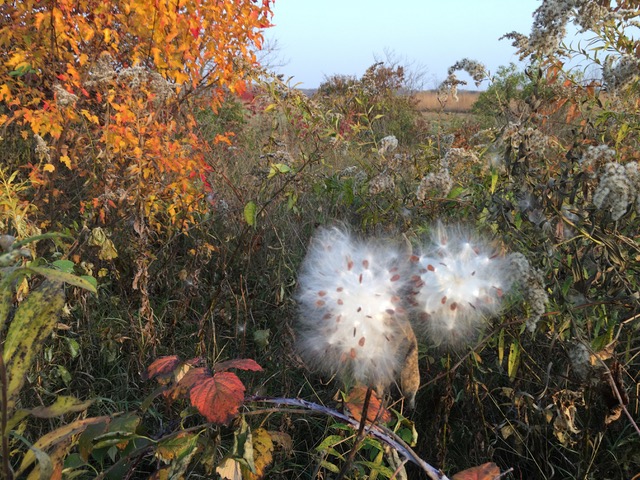 Autumn is an ideal time to visit the New Amsterdam Grasslands. The nesting season for grassland birds has passed, and the larger trail loop is open for walking. This beautiful property is located just a few miles northwest of Holmen nestled off of U.S. Hwy. 53 at the WI Hwy. 35 exit and it's currently full of amazing fall colors, sounds, and smells. The property offers accessible hikes through gentle terrain. It won't take much time to discover why Mississippi Valley Conservancy has recognized this outdoor recreational resource as one of our most important natural areas to protect in the region.
Download a trail map with driving directions here.
Choose from two different paths along the perimeter of this 310-acre site. A short trail, open year-round, offers an easy 1.1 mile hike around a lower corner of the grasslands. Park your car (or bike) at the lot at W7900 Old Cty. Hwy. NA to start the loop. From August-March a second connected loop around the remaining perimeter of the grasslands is open to the public, offering an additional 2.8 miles of hiking. This loop can also be entered through a wooden gate across the street from N7555 Rotterdam Ave in Holland, WI. 
This longer loop is closed during nesting season (April-July) to protect critical nesting habitat for for rare grassland birds, including the state-threatened Henslow's sparrow and Bell's vireo. Today, you can get a rare glimpse of this restored grassland. The well-maintained trail has just enough elevation to provide stunning views of an open sea of indigenous grasses and wildflowers gone to seed – right now it's full of fall colors, textures, and smells. Be sure to bring your binoculars and a camera. This is also a great place to snowshoe or cross-country ski in winter.
Along the way
Make a day of your trek and visit the locally-owned restaurants and shops of Holmen and Onalaska, both quick stops along Hwy. 53 and 35. Whatever your taste or budget, you'll find plenty of options along the main drags of these communities. In Holmen you'll find classic burgers and sundaes at HD Drive-In and wonderful curries and pho at Taste of Thai. In Onalaska enjoy authentic Italian cuisine at Angelini's Pizzeria & Ristorante or modern comfort food at David Reay's.
Looking to double your challenge? The Holland Sand Prairie is just a five-minute drive from the New Amsterdam Grasslands. Discover the subtle differences between these grassland and prairie preserves and complete two different Trail Trek Challenge hikes in one afternoon.
For your safety
It's hunting season, so we advise hikers to wear bright colors and stay on main trails. We also remind you to practice social distancing and be prepared with a mask if you have to stop anywhere on the way to or from your hike.
Sign up today if you're not already signed up for the Trail Trek Challenge
It's a great way to get outdoors when and where it works for you. And it's FREE. Click for details and sign-up.
We thank these generous supporters of the 2020-2021 Trail Trek Challenge
Franciscan Sisters of Perpetual Adoration, JF Brennan Company, Organic Valley, People's Food Cooperative, Gundersen Health System, Mayo Clinic Health System, Trust Point, Inc., Altra Financial Advisors, Viroqua Area Foundation, Verve–a Credit Union, Extreme Driftless LLC, WKBT/News 8 Now, Dairyland Power Cooperative, La Crosse Public Library, Mid-West Family La Crosse, 4imprint.com
Views of New Amsterdam Grasslands