Trail Trek Challenge Hike of the Month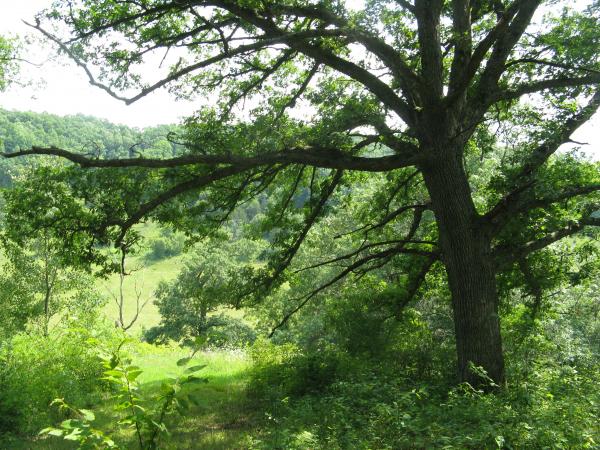 Tucked away in the heart of the Driftless Region, along the Kickapoo River, outdoor enthusiasts can find peaceful and relaxing hiking in the Tunnelville Cliffs State Natural Area. Mississippi Valley Conservancy protects well over 2000 acres of land in this quiet pristine setting. Of the 1,118-acre portion that is open for public access, two hiking trails are established. The trails are out and back routes that end near each other but do not connect because they are at different altitudes.
The hiking routes offer views of a diverse mixture of habitat, wetlands, open grasslands, sedge meadow, goat prairie, wooded ridges, and frontage on the eastern fork of the Kickapoo River, one of the oldest river systems in the world. The northern access trail (see trail map) leads to a ridge of Cambrian sandstone cliffs and a hilltop with a fantastic valley overlook. NOTE: If you're visiting Tunnelville Cliffs during or soon after heavy rains, we recommend the northern access trail which is on higher and drier terrain.
Click to download a trail map with driving directions.
This property has been designated as a "Wisconsin State Natural Area" because of its biodiversity and unique habitats. Bird watchers will enjoy scouting for the Henslow's sparrow, sedge wren, and blue winged warbler. Milkweed, evening primrose, jack in the pulpit, and purple asters are just a few of the many types of vegetation to enjoy. This is a beautiful property to visit throughout the year featuring many varieties of spring wild flowers and sandhill cranes, lush greenness in the summer, beautiful fall colors and icicles on the cliffs in the winter.
Along the way
The drive to Tunnelville Cliffs can be an adventure of its own. From La Crosse the route will take you through Coon Valley and Westby. Plan your day so that you can spend some time in these two quaint southwestern Wisconsin towns and the surrounding area. Enjoy a meal at Legacy in Coon Valley, Borgan's in Westby or extend your drive to Viroqua and experience the highly acclaimed Drifless Café, featuring organic, local, farm to table cuisine. Pull into Branches Winery and Vineyard just off of Hwy 14/61 between Westby and Coon Valley to sample some of their award-winning wines and enjoy an outdoor wood fired pizza.
If you want to do a little shopping on the way, Dregne's Scandinavian gifts in Westby is a popular spot. Or pop into the Nisse House of Art featuring the work of local artists.
This part of Vernon county is also home to a growing Amish community. Extend your time in the Driftlesss area by stopping at one of many Amish farms selling furniture, homemade baked goods, jams and candies, quilts, fresh produce. Or see their merchandise at the Viroqua Farmer's Market on Saturdays from 8:00 a.m.-12:30 p.m.
No matter the route you take, nor what you do on the way, make sure to experience Tunnelville Cliffs State Natural Area. It is some of the best public access landscape in the Driftless.
Enjoy!
Sign up today if you're not already signed up for the Trail Trek Challenge
It's a great way to get outdoors when and where it works for you. And it's FREE. Click for details and sign-up.
We thank these generous supporters of the 2019 Trail Trek Challenge:
Franciscan Sisters of Perpetual Adoration, JF Brennan Company, Organic Valley, People's Food Cooperative, Gundersen Health System, Mayo Clinic Health System, Trust Point, Inc., Altra Financial Advisors, Viroqua Area Foundation, Verve–a Credit Union, Extreme Driftless LLC, WKBT/News 8 Now, Dairyland Power Cooperative, La Crosse Public Library, Mid-West Family La Crosse, 4imprint.com
Views of Tunnelville Cliffs State Natural Area