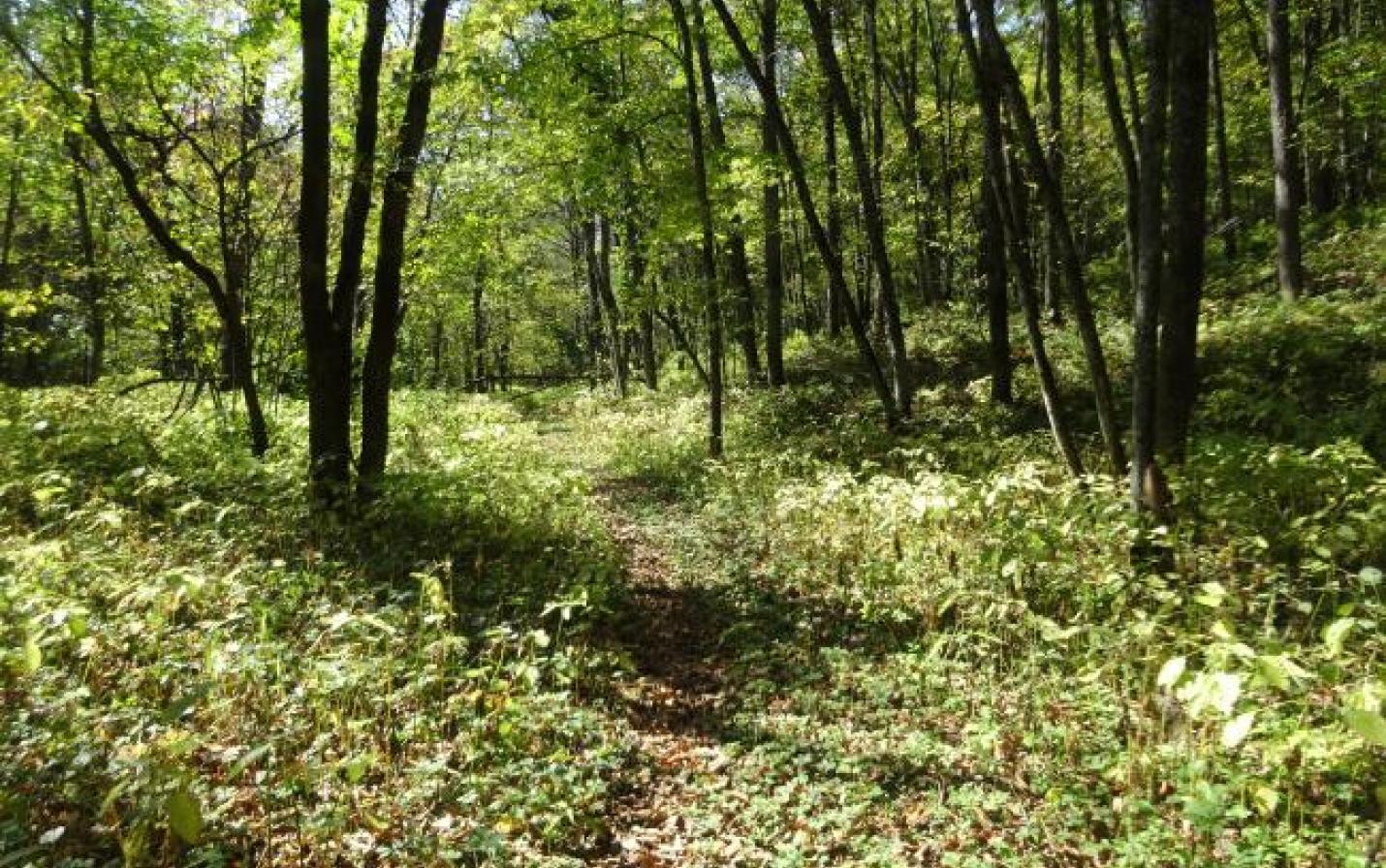 There are certain advantages of getting "lost" in Wisconsin's Driftless Area – you discover a lot of territory and sights you wouldn't ordinarily see – stately chapels in small hamlets, Amish buggies, cornfields alongside oak woodlands. And so I didn't mind making two wrong turns in my attempt to find the Mississippi Valley Conservancy Romance Woods. I simply enjoyed the drive through Vernon County.
There isn't anything particularly "romantic" about Romance Woods. Parking is minimal – a grassy plot that accommodates only one car. I used the property address posted on the MVC with my GPS, but I realized after driving 20 miles in the wrong direction, that E2625 N. Ridge Rd. Viroqua, WI, was more accurate, even though the property has the village of Genoa as its address. The Mississippi Valley Conservancy trailhead sign is partially hidden by brush, but not invisible.
The trail itself is mostly vertical, and you begin at the top of the ridge and walk to the bottom. I recalled a sign I saw at the Grand Canyon: "Going down is optional. Coming up is mandatory." The trail, a former logging road, is wide and comfortable. There are no annoying roots or rocks to trip over; the trail is grassy; the tall trees on both sides of the path provide a comfortable shady canopy. Purple phlox flowers were prominent on both sides of the trail.
It was a cool afternoon when I hiked Romance Woods and I wore only a down vest. I was comfortable. I forgot my hiking shoes, but I didn't need them. Anyone with a comfortable pair of walking shoes will have no problem making this in-and-out hike, but I suspect that anyone under the age of four would find returning uphill to the car challenging. Now in summer, one should certainly bring drinking water and consider protection from mosquitos and ticks.
I noted some evidence of erosion, but nothing that disrupted the trail. Numerous fallen trees in the woods cast a more "primitive" wilderness experience to the hike. The Conservancy website mentions an ephemeral stream alongside the trail. I didn't see this stream, but there is indeed a deep ravine below the loggers' road which I suspect is filled with water after a heavy rain.
I spent one hour on this hike. It was an hour well spent. Despite the fact that I visited Romance Woods while the country was in a "lockdown," and when social distancing was the norm, I relished the hour of solitude and silence. For an hour I was embraced by the oaks, the dolomite formations, and ungroomed brush. For an hour I was free from news of virus testing, shelter in place, personal protective equipment. I recalled what Thoreau said, "...walking leads to a total loss of interest in what is called...the news."
Daily we hear about "returning to normality." We long to hug our friends, play ball with our grandchildren, and watch the latest Hollywood film, not on Netflix, but in a theater with a spouse or partner. We miss our social associations that are vital to our well-being. But as I hiked Romance Woods, I thought to myself, "This too is 'normal.' Sharing a reserve with white-tailed deer and wild turkeys and other wildlife is also 'normal.'" It is good to get back to "normal," and to remember that it was always there.
Mother Teresa said, "God is not found in noise and restlessness. God is the friend of silence. See how nature: trees, flowers, grass – grows in silence; see the stars, the moon and the sun, how they move in silence...We need silence to touch souls." Romance Woods provides a secluded refuge to find that God.
Grant Smith is a retired Viterbo University English professor.
Learn more about Romance Woods and download a trail map.
Sign up for the Trail Trek Challenge.
Wear bright colors during hunting season – SEE SCHEDULE.